Concert Review: Judas Priest Rocks Out at Stifle Theatre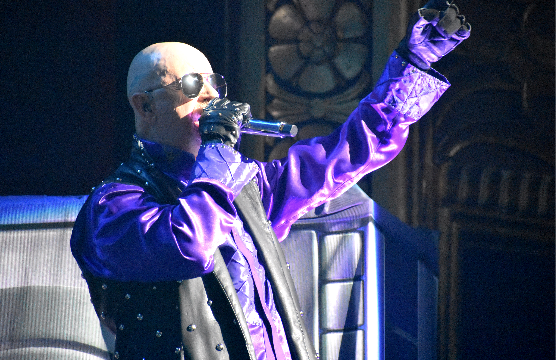 It was quite an exciting night downtown this past Monday, with the St. Louis Blues taking a win
at their home game against the Bruins at Enterprise Center for Game Four of the Stanley Cup Playoffs; But, right next door at Stifel Theatre, metal-heads of all ages came together for Judas Priest and the band's current Firepower Tour. It may have been crowded downtown, and fans might have had to have parked several miles away, but that didn't stop them from trekking to the venue for the highly anticipated concert.
Opening up was Uriah Heep, who alone brought in several of their own fans. Lead Vocalist
Bernie Shaw kicked the show off with one hell of a start. The 9-song set consisted of a variety of the
band's canon spanning over the past fifty years, as Shaw interacted with the audience and commentated on each song as the band performed from a different decade. Fans were lucky to get a
sample of the 70's, 80's, 90's, and even some the band's current hits. As both Uriah Heep and Judas
Priest will be celebrating their 50 th anniversaries, Shaw was excited to announce that between both
bands, that they "were celebrating a century of British metal and classic rock." Hit songs in the set
included "Gypsy," "Look at Yourself," and finishing off the set with fan favorite "Easy Livin.'"
After a thirty-minute intermission, Judas Priest took the stage and couldn't have been greeted by a louder audience. They opened with a cover of Black Sabbath's "War Pigs," with front man Rob
Halford sporting a loud and shiny purple suit and a cane that had a skull perched upon it's end. Also
celebrating their fiftieth year making music, the band had several decades and albums of music to cover as well, hitting singles and tracks from over ten studio albums.
It was a celebration of all things Judas Priest as the band put on a stellar set, performing newer
songs like "Necromancer," "No Surrender," "Spectre," and "Traitor's Gate." While the band did perform several new songs, the crowd was definitely pleased that many of the performances had riffs of Priest's older music stylings, containing remnants of the metal they were so eager to hear with classic sounds and Halford's signature high-pitched screams (seriously, the man can even scream on key, which is no small feat.) The show didn't let up and continued with high velocity until the very end. Priest also played several crowd favorites such as "Judas Rising," "Halls of Valhalla," and an epic performance of "All Guns Blazing."
It was a night many didn't want to end, and it didn't take long for the inevitable encore to begin
after the band exited the stage. And of course, is it really even a JP concert if Rob Halford doesn't ride
his motorcycle out onto the stage? Because, that's exactly what happened, and while it was expected, it still seemed to surprise most. The encore was the highlight of the show, with performances of "Hell Bent for Leather," "Breaking the Law," and an epic rendition of "Living After Midnight" (which included a lot of audience participation, and they were almost as loud as the band.) Even with the epic encore, the crowd was still cheering for "one more song!" However, one more song was unfortunately not in the cards for the evening. But, that didn't stop fans from leaving satisfied from the show, joining in the victory celebrations from the Blues' win next door to the theatre as the crowd outside was still massive.
The show proved that at the fifty-year mark of their career, Judas Priest can still put on a badass metal concert and leave fans satisfied. If you weren't able to catch the show this time around, don't worry, because before he left the stage Halford made the promise that "the Priest would be back."