Review– JERSEY BOYS Now Playing At The Fabulous Fox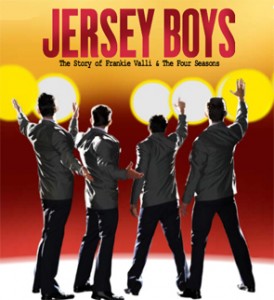 I first want to clarify two things right away that you need to know about me as you read this review.
1.)  I do not consider myself a music aficianado.  I listen to what I listen to, and I don't know much about classic bands and groups.  If you had asked me a week ago how many songs by the Four Seasons I could name then my response to you would have been "Who are the Four Seasons?".  I know, embarrassing.  So based on that, you now know that I was not the target audience music wise.
2.)  I love musicals, and talking to people and reading reviews, I had heard great things about JERSEY BOYS.  So my expectations were very high.  This usually is never a good thing.  As one of my best friends in high school used to always say, "I am not expecting anything from this night, so in six hours I am going to be able to say that it was awesome because I wasn't disappointed."
Well I went to the Fox expecting to have a great night, and 3 hours later I got home and was able to say that I had a great night.  JERSEY BOYS is a lot of fun that will not disappoint.  And it's a show that I feel like younger (not too young) and older audiences can enjoy. 
The story is the tale of the Four Seasons.  We start with the forming of the original four members (Tommy DeVito, Bob Gaudio, Nick Massi, Frankie Valli) who all grew up in the same town and wanted to get out.  Their rise to stardom began slowly, but they reached the top and stayed there one hit after another.  But like any celebrity tale worth telling, the fall must come sooner or later.  Yet the boys never lose sight of where they came from and what's important to them.
The great thing about JERSEY BOYS is that if you are like me (music deficient), you will still instantly recognize nearly half the songs on the soundtrack.  If you grew up loving the music by them, then you are going to have a blast.  The music is great throughout the entire show.  Joseph Leo Bwarie is fantastic as Frankie Valle.  All four stars do a great job, but Bwarie really shines.
The other component I really loved about the show was how fast it was.  Supporting characters wheel sets on and off while lead characters never break dialogue.  There are no pauses for scene changes.  There are no moments where the lights dim down.  The show just keeps moving on with so many songs sprinkled throughout that it's nearly impossible for you to stop and think to even look at your watch.
I had heard from people that had seen JERSEY BOYS that I "had to see it", "I actually went out and bought the soundtrack which I never do", "it's so much fun".  Well now I am one of those people.  If you are debating about whether or not to go see this then stop thinking too much and go.  Don't wait til it comes back to town again (if it does).  It will result in you having a great night at the theater.