Review: 'If/Then' at the Fabulous Fox Theatre in St. Louis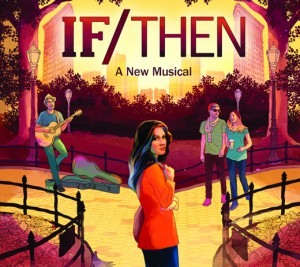 Have you ever wondered, in your daily life, "what if?" For most people, thousands of decisions are made at regular, without a thought going to what might happen if they were to choose differently, or how the smallest choice may have vastly different outcomes if made differently. "If" I do this, "Then" this might happen. That is exactly the premise for "If/Then," an original and fascinating look at one woman's life which splits into two very different paths – all based on what seems like a trivial choice. The outcome is a brilliant new musical that makes you think harder about your own decisions, and just how life may turn out upon travelling a different route.
The story follows Elizabeth (JACKIE BURNS), a recently divorced woman who moves back to New York after over a decade in Phoenix. One day while meeting up with her old boyfriend Lucas (ANTHONY RAPP) and neighbor Kate (TAMYRA GRAY) at the park, she is forced to make what would seem like a trivial decision.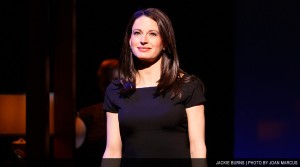 Should she go listen to music in Brooklyn with Kate, or protest a city development project with Lucas? Yet either decision will shape here entire future into drastically different circumstances, and it is here where the show is split into two stories: one following "Liz" who dons her glasses while riding the subway with Kate and her girlfriend Anne, and one where "Beth," with her perfect vision (or contacts), joins Lucas for his protest. The glasses or lack thereof are how we keep the stories straight, and are a quite effective tool.
With music by Tom Kitt, the man responsible for one of my favorite musicals of recent years – Next to Normal (Read our reviews of the Fox and New Line performances) – the songs throughout the show are extremely catchy, and quite memorable. Being a newer show, I hadn't had the opportunity to hear any of them previously, but was delighted to find so many instant hits. Listening back to the original cast recording after the show, I realized that this would be one I'd instantly want to add to my musical playlist.
The performances in the show were terrific all around. Jackie Burns, filling in for the role originated by Idina Menzel, was terrific. This isn't her first time following in Menzel's established footsteps. Burns took over the role of Elpheba on Broadway after the well-known actor left the show. Burns is absolutely wonderful, and perfect for the role. Switching between two story lines, remembering which version of her character she is playing and her motivations could not have been an easy task. Yet the actress made it seem like a walk in the park (pun intended). By her side are two other fantastic actors: Anthony Rapp (who originated the role of Mark in RENT on Broadway) returns to the role he starred in alongside Menzel in the original cast, and Tamyra Gray (a top finalist during the first season of American Idol). Both actors show incredible talent, and showcase fantastic vocals. It was especially fun to watch Rapp perform live, with RENT being one of my favorite musicals.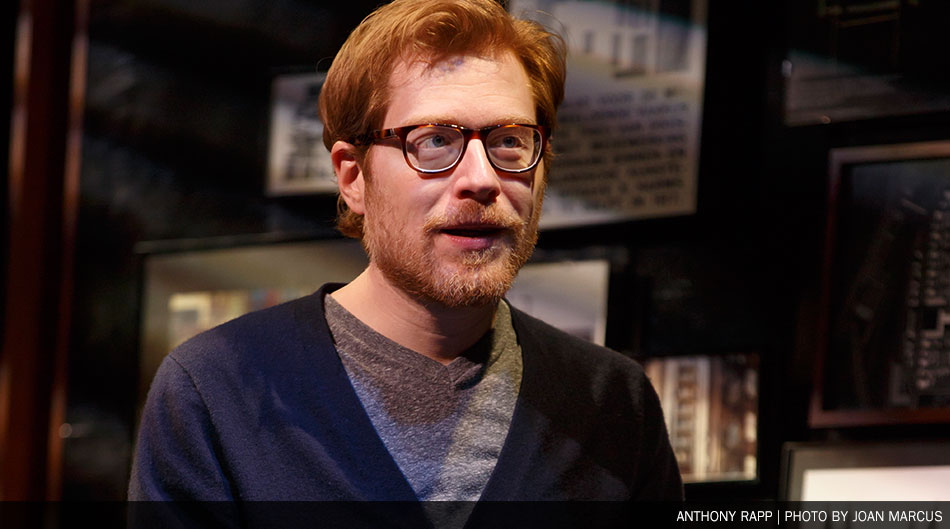 There are two very different love stories that happen during the show – one revolving around Liz's multiple meetings with Josh (MATTHEW HYDZIK) – and eventual relationship blossoming. Burns and Hydzik have great chemistry together, as the two seem very comfortable and natural together through the ups and downs of their romance. The other is sort of a pseudo-love story, revolving around old feelings that surface between Beth and Stephen (DAREN A. HERBERT), her former classmate and now boss, as well as between Beth and Lucas. Meanwhile in our other story, Lucas becomes involved with a doctor named David (MARC DELACRUZ), and it is great to see how different his life is with someone who truly cares for him as more than just a friend. The cast is truly wonderful throughout both series of events.
If/Then is a show packed full of thought-provoking (and catchy) songs, along with meaningful dialogue that can't help but to get you thinking about your own choices in life. It is also a relevant social commentary, with songs like "Ain't No Man in Manhattan" that Lucas leads, repeating "We're all in this together, yeah, we all connect." Our actions, decisions, and the way we choose to live our lives and treat one another – all of it matters, and each decision can take your life in a different direction. And all the while, as it gets you to think, the musical is a blast to watch.
---
If/Then plays the Fabulous Fox Theatre in St. Louis from March 15 – 27! Tickets are $25 to $80, and the running time is 2 hours and 40 minutes with 1 intermission. Purchase tickets at Metrotix, or visit the Fabulous Fox website for more details.