Restaurant Review – Prime Steakhouse at the Casino Queen

What happens in Vegas may stay in Vegas, but what happened at the Casino Queen, well I've just gotta tell you!  You may have heard the Casino Queen is Home of the Loosest Slots (not so much in my case, but good thing I only spent $1), but they are also home to a very tasty and high end steakhouse known as Prime.  Prime is located directly in the casino, where I was quickly met by Ricky, a very friendly host who gave me a Prime spot in a cozy corner of the restaurant.
First, let's talk about the food.  Steve and I started off with the Stuffed Portabello Mushrooms.  Mushrooms were something I didn't enjoy much until the last two years.  It must be a right of passage – hit a certain age, like certain veggies?  Regardless, these mushrooms were stuffed with crab, cheese and other herbs.  These were, hands down, the best stuffed mushrooms I have ever had.  Steve and I were tempted to order more and skip dinner all together.  Amazing.  Do not pass up on this appetizer, you can always box up your leftovers!
My entree consisted of the Veal Oscar.  Roy, the server, was very understanding when I said veal makes me sad.  I couldn't help but think of the new mini sirloin burger commercials.  But, I sucked it up and ordered the veal.  With a heavy heart I must say, this was a delicious and tender entree.  Topped with lump crab and tossed in pasta, this was a very filling and fulfilling dish.  According to Steve, it's just as good leftover, too.
Steve had the Filet Mignon.  One of us had to order the steak, it's a steakhouse.  I did steal a few bites (Hey!  He ate my leftovers, it's fair!) of the medium rare steak, and it was cooked to perfection.  That's my issue with steakhouses – if you're calling yourself a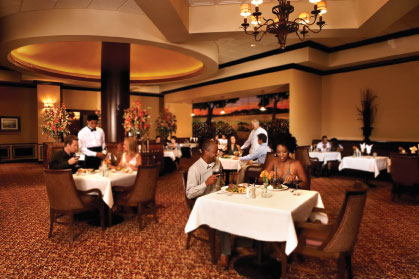 steakhouse, you better cook a damn good steak!  If someone orders medium, make it medium!  Prime did just that.  Overall, I was very impressed.  This was my first meal at the Casino Queen, but I can guarantee it won't be my last.  I'm not a big gambler but I sure love the food and the service will make you feel like a VIP.
For directions and a more detailed menu for Prime, visit them on the web at: The Prime Steakhouse at Casino Queen.