New 2009 Fall TV Shows – CBS
Hope your DVRs are ready folks! The new fall season is just around the corner. If you are anything like me I'm sure you'll have quite a few new shows you want to watch, and I'm sure you will have some you want to avoid.  Let's take a look at the new Fall pilots for CBS.
Accidentally On Purpose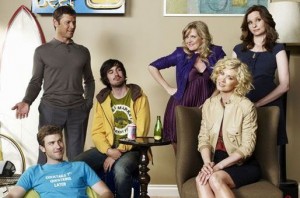 ACCIDENTALLY ON PURPOSE is a comedy starring Golden Globe Award winner Jenna Elfman as Billie, a single woman who finds herself "accidentally" pregnant after a one-night stand with a much younger guy, and decides to keep the baby… and the guy. A newspaper film critic, Billie is barely surviving a humiliating breakup with her charming boss, James (Grant Show), who's still trying to resume their relationship. Suddenly expecting a child with her "boy toy," Zack (Jon Foster), Billie and Zack make an arrangement: to live together platonically. Billie's party girl best friend Olivia (Ashley Jensen), and Abby (Lennon Parham), her conventional, younger married sister, eagerly look forward to the new addition and offer their own brands of advice and encouragement. But when Zack and his freeloading friends, including Davis (Nicolas Wright), start to turn her place into a frat house, Billie isn't sure if she's living with a boyfriend, a roommate, or if she just has another child to raise. Lloyd Braun, Gail Berman, Gene Stein and Claudia Lonow are the executive producers for CBS Television Studios. Pamela Fryman directed the pilot.
Worth watching? If you are looking for good sitcom fare? Absolutely yes! Based on Mary F. Pol's autobiographical novel "Accidentally on Purpose: The True Tale of a Happy Single Mother", so it comes from good source material. Also add in the fact that Paula Fryman who deserves just as much credit for the success of How I Met Your Mother as does Carter Bays and Craig Thomas. It will be nice to see Jenna Elfman back as well. She is a gifted comedic actress who really lights up the screen.  Although I have heard some things about tired jokes in the pilot, but that is pretty much to be expected with sitcoms these days. Let's hope Fryman can fry us up another hit and another reason to keep my DVR set for Monday nights on CBS!
Starts airing Monday September 21st at 8:30/7:30 Central.

NCIS: Los Angeles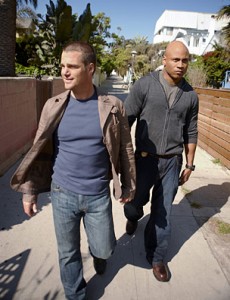 NCIS: LOS ANGELES is a drama about the high stakes world of undercover surveillance at the Office of Special Projects (OSP), a division of NCIS that is charged with apprehending dangerous and elusive criminals that pose a threat to the nation's security. By assuming false identities and utilizing the most advanced technology, this team of highly trained agents goes deep undercover, putting their lives on the line in the field to bring down their targets. Special Agent "G" Callen (Chris O'Donnell) is a chameleon who transforms himself into whomever he needs to be to infiltrate the criminal underworld. His partner is Special Agent Sam Hanna (LL COOL J), a former U.S. Navy SEAL who has seen action in both Afghanistan and Iraq, and a surveillance expert who uses state of the art monitoring equipment to look out for those in the field and feed them crucial information. Both Callen and Hanna report to Special Agent Lara Macy (Louise Lombard), the OSP team leader responsible for directing the operations and making life-or-death decisions. Assisting the team is Special Agent Kensi Lo (Daniela Ruah), the exceptionally bright daughter of a slain Marine who lives for the adrenalin rush that comes with undercover work, and Operational Psychologist Nate Getz (Peter Cambor), adept at getting into anybody's head, profiling the target and monitoring agents' states of mind before, during and after missions. Armed with the latest in high tech gear and sent regularly into life-threatening situations, this tight-knit team relies on each other to do what is necessary to protect national interests. Shane Brennan ("NCIS") is the executive producer for CBS Television Studios.
Worth watching? If you are a fan of the hit that spawned this, N.C.I.S, then of course you'll want to tune into this. I'm not surprised that CBS went the CSI route with this and spun it off. It seems to be very en vogue to be spinning off shows into franchises, Grey's Anatomy, Gossip Girl, Law and Order, etc. have all tried it or have tried to do it. It seems that this one we will have the main characters from it's parent show in the first episode, most like to make us feel a bit more comfortable with the new cast. Then we will really delve into the background of our new characters. There is some decent sized names attached to this one, but none of them have made a hit in a while. I can't help but think that maybe Chris O'Donnell and LL Cool J might fare better on TV rather than the jungle that is the film industry. The good thing about this one is that it involves a bit more tech, and might be a little more dark. This might lend itself to some new audiences who aren't a fan of the original show.
Starts airing Tuesday September 22nd at 9/8pm Central.

The Good Wife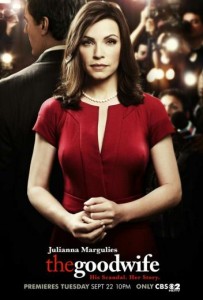 THE GOOD WIFE is a drama starring Emmy Award winner Julianna Margulies as a wife and mother who must assume full responsibility for her family and re-enter the workforce after her husband's very public sex and political corruption scandal lands him in jail. Pushing aside the betrayal and crushing public humiliation caused by her husband Peter (Chris Noth), Alicia Florrick (Margulies) starts over by pursuing her original career as a defense attorney. As a junior associate at a prestigious Chicago law firm, she joins her longtime friend, former law school classmate and firm partner Will Gardner (Josh Charles), who is interested to see how Alicia will perform after 13 years out of the courtroom. Alicia is grateful the firm's top litigator, Diane Lockhart (Christine Baranski), offers to mentor her but discovers the offer has conditions and realizes she's going to need to succeed on her own merit. Alicia's main competition among the firm's 20-something new recruits is Cary (Matt Czuchry), a recent Harvard grad who is affable on the surface, but will use any means to ensure that he, not Alicia, secures the one full-time associate position that's available. Fortunately, Alicia finds an ally in Kalinda (Archie Panjabi), the firm's tough in-house investigator. Gaining confidence every day, Alicia transforms herself from embarrassed politician's scorned wife to resilient career woman, especially for the sake of providing a stable home for her children, 14-year-old Zach (Graham Phillips) and 13-year-old Grace (Makenzie Vega). For the first time in years, Alicia trades in her identity as the "good wife" and takes charge of her own destiny. Tony Scott, Ridley Scott, Robert King, Michelle King, Dee Johnson and David Zucker are the executive producers for CBS Television Studios.
Worth watching? I've more than one early review of the pilot calling it this years "best drama".  Julianna Margulies is going to be back at the forefront of another great drama apparently. I always thought she was a bit loony to leave ER while it was at the height of it's run only to pursue a film career that never took off. I'm really glad to see she has come back to television in another great program. My big scare with this is the subject material. It isn't that I don't think it will be interesting, it is just that I have trouble believing that people will latch on to a show that starts with a political sex scandal. For me though, this is a must on my DVR and I can't wait to view it and review it.
Starts airing Tuesday September 22nd at 10/9PM central.

Three Rivers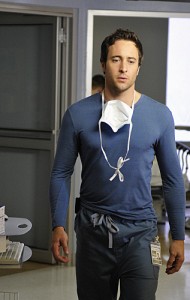 THREE RIVERS is a medical drama that goes inside the emotionally complex lives of organ donors, the recipients and the surgeons at the preeminent transplant hospital in the country where every moment counts. However, dealing with donor families in their darkest hour and managing the fears and concerns of apprehensive recipients takes much more than just a sharp scalpel. Leading the elite team is Dr. Andy Yablonski (Alex O'Loughlin), the highly-skilled workaholic lead organ transplant surgeon, whose good-natured personality and sarcastic wit makes him popular with his patients and colleagues. His colleagues include Dr. Miranda Foster (Katherine Moennig), a surgical fellow with a rebellious streak and fiery temper who strives to live up to her deceased father's excellent surgical reputation; Dr. David Lee (Daniel Henney), a womanizing surgical resident who's broken as many hearts as he's replaced; Ryan Abbott (Christopher J. Hanke), the inexperienced new transplant coordinator who arranges the intricately choreographed process of quickly and carefully transporting organs from donor to patient; Dr. Sophia Jordan (Julia Ormond), the head of surgery and a dedicated medical professional; and Pam Acosta (Justina Machado), Andy's no-nonsense operating assistant and best friend. In this high stakes arena, in which every case is a race against the clock, these tenacious surgeons and medical professionals are the last hope for their patients. Carol Barbee, Curtis Hanson and Carol Fenelon are the executive producers for CBS Television Studios.
Worth watching? Well, sticking it on a Sunday night doesn't give one much hope. This is the type of show if I expect it to be good I would put it on a weekday where more people might be willing to watch.  Buzz going around is that not much really works in this pilot and the script is kind of horrible. However, there is potential for the show. There have been plenty of shows I have watched where the pilot was lousy but the show ended up being quite good in the long run and vice versa. So, if you stick with this one you might get a bit of a surprise. I am not holding my breath. I'll give it a few episodes. If it ends up being good I will more than happily eat my words (unless of course it gets canceled after I enjoy it).
Starts airing Sunday October 4th at 9/8pm central.