Local Flick 'Streetballers' Scores a Win Over the Weekend!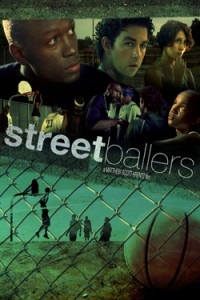 Local St. Louis filmmakers had a lot to celebrate over the weekend as Streetballers premiered here in St. Louis playing exclusive engagements at Landmark's Tivoli and Weherenberg Ronnies 20. We are very happy to report that the film was a resounding success this weekend!
The film made $11,581 over the weekend at the two theaters making it have the 9th largest average in the country! When adding in only independent features it was 6th in the nation. A very impressive start. Producer and actor in the film, Patrick Rooney says, "With our opening weekend box office success Landmark Theatres and Wehrenberg Theatres are excited to "carry-over" Streetballers for the upcoming week."
It is very refreshing to see another film from St. Louis filmmakers take off this year.  I really cannot urge you enough to go see this film. You will not leave disappointed. Everyone has spectacular performances. If you aren't a big film fan, go out to support local talent. Remember folks give them a big enough release here and it can move them to other places. We wish the team behind Streetballers a lot of luck. Keep checking back here for Streetballer updates!
Buy Streetballers Tickets for Landmark's Tivoli Theatre in the Loop.
Buy Streetballers Tickets for Weherenberg Ronnies 20 in South County.