The "Post Grad" Soundtrack is available now! Enter to win a FREE copy!
Enter to win a FREE copy of the POST GRAD soundtrack.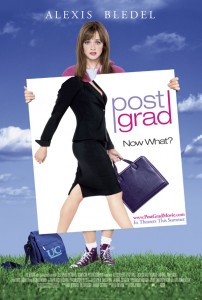 Post Grad – Original Soundtrack Music
To enter, leave a comment below telling us about your funniest experience while at work, or trying to find a job!
In the movie, recent college graduate Ryden Malby (Gilmore Girls star Alexis Bledel) has just survived for years of higher education, but when she's forced to move back into her childhood home, the stress of dealing with her eccentric family, landing a job, and finding the right guy leaves her with precious little… time to ponder where her life is truly heading. Shrek and Shark's Tale co-director Vicky Jenson takes the helm for a comedy co-starring Michael Keaton.
The soundtrack now available from ABKCO Records. And don't forget to go see "Post Grad," in theaters now!
WATCH THE TRAILER

To learn more about the movie, visit the official website at foxsearchlight.com/postgrad