Restaurant Review: Gamlin Whiskey House
Ron Swanson would feel right at home here.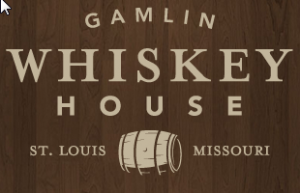 There are some things that go hand in hand together. Peanut butter and jelly. Peanut butter and chocolate. Hell, peanut butter and anything except for people who have an anaphylactic reaction to peanuts. Among these combinations, steak and whiskey gaze lovingly over the land of awesome and the home of the delicious.
I had not heard of this new venture called Gamlin Whiskey House until a colleague told me about the grand opening a few weeks ago. Intrigued, I did some intense researched that involved a long-lost technique known as Googling and found that this was a place that boasted over 250 different types of bourbons, whiskeys, and scotches. Plus, steak! I knew I had to go. Rounding up my buddy Joe, his girlfriend Ashley, and my friend Kat, we ventured out on a Saturday night to peruse this utopia.
Located off Euclid in the Central West End, this place keeps the moderately upscale vibe of the locales around it. Owned by Derek and Lucas Gamlin, who also happen to own Sub Zero Vodka Bar, it's pretty apparent they know their crowd and they know how to appeal to their tastes.
We managed to get a reservation a few days ahead of time, and it's a good thing we did, as the place was pretty busy when we stepped inside. There were one or two empty tables, but the rest of the seats were pretty much occupied. The decor lent itself nicely to the mood of the restaurant. There are probably a dozen televisions all around the restaurant, but at least in the dining area, they were all looping pictures of various whiskeys and distilleries from around the world. Given that the Blues were playing, it would have been nice to watch the game, but it wasn't a deal breaker.
We were seated pretty quickly, and our server came over quickly to get us settled in. The first thing I couldn't help but notice was the small wooden crate the hostess placed on our table. I was half expecting our place settings to be in there, but it turned out to be three separate beverage menus: one for whiskey, one for cocktails, and one for wine. After perusing through the various drinks, we placed our beverage orders, which arrived about five minutes after we ordered them. My old-fashioned was pretty damn tasty, not gonna lie. The sugar was enough to cut the bitters and whiskey, but not to the point of being treacle. Ashley also got the old-fashioned, while Joe had the Gamlin Manhattan and Kat ordered the West End Lemonade.
While we sipped our beverages, we ordered a couple of appetizers to split, the bourbon-brined drummies and the flame-grilled oysters. The drummies have a slightly sweet kick to them and there was plenty of meat on the bone. Half the time it seems a drummet is half bone, half chicken, but this certainly wasn't the case here. The oysters were tender and well-prepared.