Interview: Former WWE Champion Mick Foley (AKA Mankind) – See Him at the Funny Bone in St. Louis Tonight! (11/21)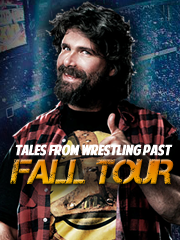 WWE Hall of Famer and New York Times best-selling author Mick Foley (Mankind, Dude Love, Cactus Jack) will be at the Funny Bone in WestPort Plaza tonight – Thursday, November 21 (TICKETS). The hardcore wrestling legend recently took some time out of his busy schedule to chat with Review STL about his current "Tales of Wrestling Past" tour, as well to as talk about wrestling.

Jeremy: How long have you been on the road now with your current tour?

Mick: The nice thing about the tour is I do whatever sales I feel like doing. 3 nights ago I was in literally my home town. After Columbia and St. Louis,  I'll be out in LA  for meetings and then out in Las Vegas. I make my own schedule so whenever i want to perform I pretty much can.
What can people expect from a Mick Foley Stand Up show?

I'm trying to veer away from the idea of stand up. I've tried to head that off by calling it "Tales of Wrestling Past." I know that requires a great leap of faith. If I can reach some of those on the fence and bring them over, I've done a good job.
What percentage of the crowd will be hardcore Wrestling Fans?

I don't want to call them "hardcore" because that evokes memories of ECW matches. I will say very enthusiastic wrestling fans. I'd say probably about 90%..Some comics that come to see and of course there will be about 6 or 7 spouses in the crowd who got dragged to the show. They realize about 10 minutes in that they are enjoying themselves.
Has your experiences traveling as a wrestler influenced your show?

Aside from creating 98% of my material! Brendan Burns, an old comic, said I have an advantage over all comics. I get to talk about my day job. It's very rewarding for me to go out and perform every night. I always talk about my experiences. I've experienced about some of the wildest things imaginable.
Has your show been influenced by other comics?
It's a very warm reaction that I get from comics when they come out to see me. Other comics are great. They see how seriously I take it. The worst thing I did a few years ago was studying them. I lost what made my show unique. I learned to not try to take anything from them. I like to listen to the storytellers. I don't try to get any ideas from them, but just listen to them tell their stories to the crowd.
Is there any part of your show that fans will be surprised at?
LOL. I think that my fans who have read the books will know some of the stories, but there will be some things that they may not know. I try to keep it pretty clean.
So, your shows are kid friendly?
I may drop the "F" word once in the show. I might ask the parents to put the earmuffs on the kids. The last show that I did was an all ages show. Most of the clubs that I do have an age limit like 18 or 21. But, I would say it's a PG 13 show.
Do you have any fond memories of St. Louis?
Sure. My last match ever was in St. Louis at Royal Rumble 2012, so it's been almost 2 years since I've laced up the boots. I have a special story that I'm going to save for tomorrow night about St. Louis, but I will go back and reminisce about the glory days in the Kiel Auditorium.
So, do you have any favorite spots you like to visit when in the city?
You mean asides from the Arch and the other touristy spots? Not really, I was always on to the next city after a match. I did go to the Final Four one time in St. Louis. That was a pretty neat experience.
Looking at the current WWE roster, is there a particular wrestler you're a fan of?
I love all types of performers. You know I always like the guys who could do things I couldn't do. I like to watch guys like Dolph Ziggler and CM Punk who are so athletic. I also like the guys who can work the psychological angle like Bray Wyatt and Dean Ambrose. They get over in different ways.
It seems like you have a flair for storytelling. When did you first realize you could entertain people outside of the ring?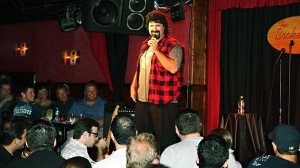 I think it was in Tallahassee in 1999. I went into the back of the arena and asked some of the guys if they wanted to hear the first 20 pages of my book. It started out with 4, then 8, then 16 then 20. I think that's where I realized that writing was a way I could evoke a response similar to being in the ring.
How different is performing in the ring on a nightly basis compared to doing a stand up show in front of a smaller room full of people?
Well, the size of the crowd really doesn't matter, unless you have under double-digits, then it can be embarrassing. I never let the size of a crowd dictate the event. I want to entertain whoever is on hand. I don't think I shy away from showing my vulnerabilities. Wrestling and comedy are different in that wrestling, you try to minimize that, but in comedy you try to amplify that.
With this year's Wrestlemania being the 30th anniversary, can wrestling fans expect to see you involved with the show?
I'll be all over that weekend. They really work us old timers. I'm sure we will be doing autograph sessions, running wrestling schools, probably doing Be A Star Anti-Bullying Program things. I'll have my kids down there for the weekend. I'll be at the Hall of Fame Induction. It's gonna be a party. I'll have a great time, whatever I'm doing.
See Mick Foley tonight (Thursday, November 21) for "Tales of Wrestling Past" at the Funny Bone in Westport Plaza. For tickets, visit stlouisfunnybone.com.