Raw Review: WWE Needs to Tread lightly with John Cena Injury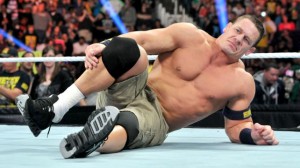 As WWE Extreme Rules, the first pay per view after WrestleMania, draws closer, the WWE finds itself in a pickle. Top star of the company, John Cena, apparently suffered an Achilles injury while on tour in Europe. The injury has been confirmed, but we all know that in the wacky world of wrestling, a confirmation really holds no clout. Do I think the injury is real? Yes. Do I think the WWE is going to use it to their advantage? It depends on how you look at it. Word got out early Sunday morning about the injury. I immediately started to think about Extreme Rules in St. Louis on May 19. This could be one of the worst scenarios the WWE could find itself in. The top star in wrestling today, unable to go at the first pay per view following WrestleMania. Not a good spot for WWE at all.
So, John Cena did what John Cena could only do, come out and fight. He knows he's the top dog. The guy doesn't know how to be injured. Regardless of how bad his injury may be, he would find a way to go at Raw and Extreme Rules. Should the WWE shut him down? Why risk a worse injury by parading him out there in useless matches? Here's my thoughts on how the WWE could handle this reported injury. Have The Shield attack him, injuring him to the point where he will miss several weeks, forcing him to relinquish the title. Put it up for grabs at Extreme Rules. It could be a tournament of sorts, either at Extreme Rules or on Raw and Smackdown on the weeks leading up to the pay per view. Is there anyone ready to handle being the champ on the Raw roster? Randy Orton may not be on the Raw roster, but he could use a title run. His character has been the epitome of lame lately. There's no doubt that his home crowd town of St. Louis will be all about him, so have him turn heel at home. The crowd would eat it up. He could basically tell his home town to go to hell. It would be perfect. Orton could take the title and run with it until Cena gets back. Orton isn't the only one who could benefit from a Cena injury.
If The Shield idea doesn't work then have Ryback destroy Cena. He's pretty over with the fans as a heel, so it makes sense. The only problem with that is Ryback isn't ready to be the champion. His character is boring. He's just a big angry guy.
On Monday Night Raw, it was obvious that Cena wasn't 100%. Kane and Daniel Bryan carried the main event of the evening against The Shield. Cena was left in the middle of the ring to nurse his injured foot at the end of the show. WWE can afford to book Cena in tag matches the next couple weeks and still build up the pay per view main event, but if Cena isn't ready then, fans will be disappointed with the planned main event for Extreme Rules.
It's up to WWE to figure out a solution. It's up to Cena to rest for the next couple weeks. There would be nothing wrong with him staying out of the ring and healing his foot. They could continue to build Ryback as a major threat. If WWE follows through with that, is remained to be seen.
Photos © WWE.