RAMS END PRE-SEASON ANSWERING MANY QUESTIONS.
Thursday Night at the Edward Jones Dome marked the end of the Rams pre-season schedule and also the return of much malined quarterback Mark Bulger. Bulger now is now backing up Joe Flacco in Baltimore for the Ravens, other than the change in uniform, SAME OL BULGER! Mark showed us his true color, yellow, thursday night by standing on the sidelines eating a hotdog not getting anywhere near the action. This limited the sparce crowd at the "edge" to just booing Bulger on his way on and off the field.
The Rams closed the pre-season with a win over the Ravens 27-21, and a record of 3-1 in the season's warm up schedule. The Rams also managed to answer a few questions floating around the bars and tailgates here locally..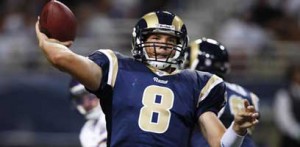 1. Will Bradford start the season at Quarterback? YES!
 The coaches didn't need to see much more than Sam's opening drive against a mix of Baltimore's first and second string defense to know he can play in this league.  Sam went 6/6 for 68 yards and a touchdown for a quarterback rating of 153.0!!!!! This is back to back impressive performances by a rookie quarterback against a starting New England Defense and a capable one in Baltimore. A.J Feely is a good back up and will be a super teacher to the kid, but the job is his week one.
2. How many games will the Rams win this season?
Yes we did go 3-1 last pre-season and only managed to steal a win in Detroit last season. But Ram fans take a look at how the schedule opens for our Rams: at home versus the disfunctional Cardinals minus Boldin, Warner and now Matt Leinart; then we head into the "black hole" in Oakland to battle the alway bad Raiders with the game of "who is out QB this week?"; Then back home against the Washington Redskins and possibly Donavan McNabb; then Seattle comes to town with a lackluster offense and pourous defense. 2-2 is a must but 3-1 is looking very promising. We are going to win games this season, my guess is 5 or 6, and that is a wonderful improvement.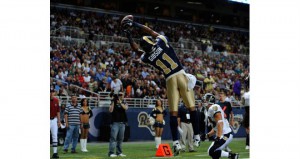 3. Who will take Donnie Avery's spot on the roster?
The injury to "Mr. Glass" has opened a door for a couple of wide receivers on the Rams roster. Keenan Burton nad Daniel Gibson were on the bubble before Avery got hurt, and Gibson took advantage Thursday night by making 4 catches for 40 yards and a spectacular touchdown to make his case to make the roster. Gibson also gave away a catchable ball for an interception return for a touchdown.  Burton pitched in 1 catch for 8 yards, wow! Keenan, coach wants to see you and bring you play book. Danny Amendola will be the number two receiver opposite Laurent Robinson when the season starts. Amendola had a sideline grab of 63 yards from Bradford that had the ravens defense in awe! Remember that around week 6 or 7 we will have a healthy Danario Alexander coming of the practice squad to be like a mid season draft pick providing an additional spark to this emerging offense.
4. How will the Defense hold up?
Newly aquired Fred Robbins looks like the piece of the puzzle needed for this defense to stop the run. Jame laurenitis is now flanked by fellow Ohio State linebackers Na'il Diigs and Larry Grant who will all provide some pop to the opposing receivers wanding across the middle of the field.
5. Who is going to back up Steven Jackson?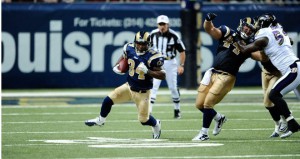 NOT KENNETH DARBY! Darby showed one flash of speed last night with a 29 yard run, but the rest of the time he was dancing around trying to find a hole to run through . Chris Ogbonnaya has some potential and can provide depth on special teams so he seems to be safe, but the Rams will be watching the waiver wire this week for a solid back up to SJ#39.
The Rams have cut the following players:
OL -Joe Gibbs
DB- Marcus Brown
RB- Jamie McCoy                                 
(Lets say it together WHO?)
These were the first cut to get the roster to 75. Donnie Avery was officially put on Injured reserve and ended his care…oh I mean season. By tomorrow the Rams must cut an additional 18 players to get the roster to 53 and start the season.
Some other NFL News:
Big Bad Ben Rothlesberger had his suspension reduced to 4 games from 6.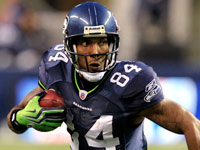 Dallas sent Patrick Crayton to the Chargers for a 7th round pick, Vincent Jackson can you see the writing on the wall?
Our old DT Damion Lewis was cut by the Patriots and is looking for work again!
Seattle is shoping wide receiver T.J. "whosyourmomma" Houshmandzadeh looking to cut payroll while they rebuild. NO WE DON'T WANT HIM
Check back this weekend when we have the final 53 man roster and we look forward to week one against the Az. Deadbirds!!!!!
I am Ram Man and I will see you in the endzone!