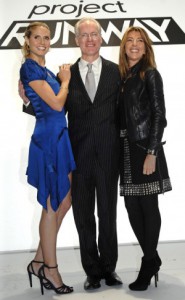 This week is the premiere of season 8 of "Project Runway". Fans of the show are already excited for another always entertaining season full of designers that are never boring. But non fans of the show from St. Louis may want to tune in this season.
This season, St. Louis gets represented by not just one but two designers in the cast of 17. A.J. Thouvenot and Michael Drummondmay be recognizable to some in the area but will be fresh faces like all of the other designers to most.
A.J. Thouvenot graduated from Francis Howell North High in St. Peters. Thouvenot then went to Lindenwood University where he graduated in 2008 with a bachelor of fine arts degree. After interning in New York, he now works on his line TrashBiscuit with partner Ryan Coyne right here in St. Louis.
Michael Drummond has received some notoriety in the St. Louis fashion world after winning last year's St. Louis Fashion Week's Project Design competition. Drummond graduated from McCluer North High in Florissant. He began knitting while attending the Academy of Art University in San Francisco.
St. Louis residents are no stranger to "Project Runway". Season 3 fan favorite Santino Rice finished in third. Rice is a former St. Charles resident. Qristyl Frazier is a former St. Louis resident who was featured on season 6.
But we are still waiting for our hometown favorite to win the whole thing. Maybe Thouvenot or Drummond will be that designer to take it all home. "Project Runway" starts this Thursday on Lifetime at 8:00 pm.