Did You Know? "Resident Evil: Afterlife 3D"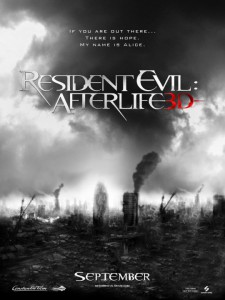 Yesterday San Diego Comic Con had a panel featuring actress Mila Jovovich and director Paul W.S. Anderson as they discussed their upcoming film Resident Evil: After.Life. I have always been a fan of the series so I was happy to read that the footage that was shown looks great. Also, the new installment features the same 3D technology that was used to make Avatar. No crappy post-production conversion process on this one.
This article isn't about the new Resident Evil though. I want to take a look at the original film in the series and provide some fun facts that maybe you hadn't known before.
Did you know…
George A. Romero, perhaps the godfather of zombie films, was originally attached to not only write but also direct Resident Evil. He left over creative differences with the studio. One can only wonder what would have been had he been given his way.
This was the second film that Paul W.S. Anderson directed that is based upon a video game. The first one was Mortal Kombat. A guilty pleasure for me while the sequel was atrocious.
There are many references in the movie to the story Alice in Wonderland including the main character's name being Alice, the Red Queen being in charge of the Hive, and a white rabbit being used for testing of the T-Virus.
Director Paul W.S. Anderson is actually married to the film's star, Mila Jovovich. They became engaged one year after filming completed on Resident Evil.
Mila Jovovich's name in the film, Alice, is not spoken, written, or identified in the entire film until the end credits. They should have just given her a sweet name like "The Bad Ass" or "The Chick with the Gun"
Are you a fan of the Resident Evil series? Does the new sequel interest you or do you think that it is completely unnecessary? Let us know what you think in the comments below.