"Let Me In" Comic Con 2010 Poster and Trailer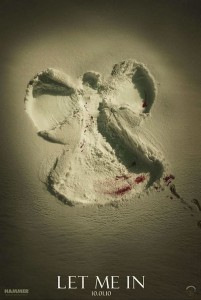 "Let Me In" is not exactly my most anticipated film this Fall. I really was surprised at how great the original was that I'm not sure if anything new can really be brought to the table. The marketing for the film is starting to pick up as the release date slowly creeps up on us.
Over the weekend Let Me In hosted a panel at San Diego Comic Con showcasing some footage of the film and answering fan's questions. The first scene shown focused on the relationship between the two leads, Kodi Smit-McPhee and Chloe Moretz, as they played together in an arcade. The success of this film hinges on their chemistry, and it sounds like the scene worked. The second scene featured Richard Jenkins doing some "work" in the night as he runs into a couple of college kids. Jenkins cast in this role is the best part of this remake for me so far. I'm really hoping he is as amazing as i believe he can be here.
Director Matt Reeves went on to discuss how he wanted to use elements in his movie that were in the book but not in the original film. Another interesting tidbit that was revealed during the panel was that most of the cast and crew waited to watch the original film until they had completed their version.
Now for those of us who do not get the privilege of going to Comic Con, we get a brand new trailer and new poster. The poster is quite bland in my opinion, but the trailer raises my anticipation for this movie. It seems to capture the right tone and atmosphere needed to really make this work.
Let Me In hits theaters October 1. Watch the new trailer below:

What do you think about this remake? Have you seen the original? Let us know in the comments below.