The Hidden Gem – "Batman: Mask of the Phantasm"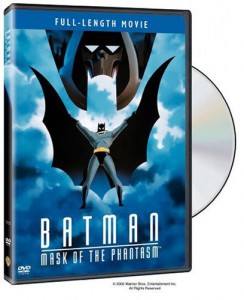 I am a huge Batman fan, and therefore, very excited about this week. If you don't know why then I will give you a hint: you will see in my DVD picks of the week tomorrow. So today I want to take a look at a film that I tell all of my friends about, but none of them know what I am talking about. Maybe I just have bad friends (not likely), but regardless, this week's hidden gem is "Batman: Mask of the Phantasm."
Batman soon finds there's another vigilante in town knocking off prominent mob figures. The police and outraged officials mistake the homicidal crusader for Batman himself and demand that the city's longtime hero be brought to justice. Meanwhile, Andrea Beaumont returns to town. She is the lost love of Bruce Wayne and was an integral part of Wayne's decision ten years earlier to don the cape and cowl. Now, she is back in his life and is no less a disruption than the return of his old archenemy, The Joker, who has a stake in seeing the annihilation of this new vigilante, whoever it proves to be.
The film is set in the world and continuity of the outstanding Batman: The Animated Series which means two things: great animation and perfect voice acting. Mark Hamill is spot on with the Joker capturing both the maniacal and the funny parts of his personality. Kevin Conroy is the epitome of Bruce Wayne/ Batman. Unlike Christian Bale, Conroy knows how to change his voice for the two characters without sounding like a growling beast.
Before "The Dark Knight" in 2008, in my opinion, this was the best Batman film. The characters are fleshed out perfectly. The action is great, and the story is moves at a brisk pace. This provides a nice origin story for Batman that is different from Nolan's take. I think it humanizes Bruce Wayne more seeing him in a close relationship.
Please check this movie out if you haven't already. I am sure you won't be disappointed. Then, after you see it or if you have already, leave a comment below telling us what you think.