'Prisoners' opens September 20! Enter to Win Passes to the Advance Screening!
Enter to win a pass for two!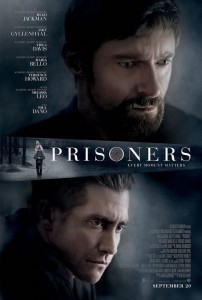 From Alcon Entertainment comes "Prisoners," a Warner Bros. Pictures' release starring Oscar® nominees Hugh Jackman ("Les Misérables") and Jake Gyllenhaal ("Brokeback Mountain"), under the direction of Denis Villeneuve, who helmed the Oscar®-nominated foreign language film "Incendies."
How far would you go to protect your family?  Keller Dover (Hugh Jackman) is facing every parent's worst nightmare.  His six-year-old daughter, Anna, is missing, together with her young friend, Joy, and as minutes turn to hours, panic sets in.  The only lead is a dilapidated RV that had earlier been parked on their street.  Heading the investigation, Detective Loki (Jake Gyllenhaal) arrests its driver, Alex Jones (Paul Dano), but a lack of evidence forces his release.
As the police pursue multiple leads and pressure mounts, knowing his child's life is at stake the frantic Dover decides he has no choice but to take matters into his own hands.  But just how far will this desperate father go to protect his family?
Led by Jackman and Gyllenhaal, the dramatic thriller "Prisoners" features an all-star cast, including Maria Bello ("Beautiful Boy") as Keller's distraught wife, Grace; Oscar® nominees Terrence Howard ("Hustle & Flow") and Viola Davis ("The Help," "Doubt") as Franklin and Nancy Birch, whose daughter Joy went missing with the Dovers'; Academy Award® winner Melissa Leo ("The Fighter") as Alex Jones' Aunt Holly; and Paul Dano ("Looper") as Alex Jones.
Denis Villeneuve directs the film from an original screenplay by Aaron Guzikowski ("Contraband").  Kira Davis, Adam Kolbrenner, and Academy Award® nominees Broderick Johnson and Andrew A. Kosove ("The Blind Side") are the producers, with John Starke, Ed McDonnell, Stephen Levinson, Robyn Meisinger and Mark Wahlberg serving as executive producers.
Cast: Hugh Jackman, Jake Gyllenhaal, Maria Bellos. Viola Davis, Terrence Howard, Melissa Leo, Paul Dano
Director: Denis Villeneuve
Prisoners opens Friday, September 20!
Use the contest app below to "like" ReviewSTL on Facebook – then tweet, share, or comment for additional entries!
Winners will be chosen at random from all entries. Supplies are limited. Limit one (1) pass per person, passes admit (2) two. Sponsor's employees and their dependents are ineligible. Screening is overbooked to ensure capacity. Please refer to passes for any other possible restrictions. NO PURCHASE NECESSARY.
Screening will take place Monday, September 16 at Wehrenberg Ronnies 20 (7pm).