Movie Review: 'Insidious: Chapter 2' Starring Patrick Wilson, Rose Byrne, Barbara Hershey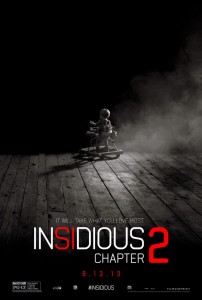 It's been a good year for director James Wan. First, audiences were scared to death in record numbers with The Conjuring, one of my early entrants on my top movie of the year list. Then word gets out that he has been picked to direct Fast and Furious 7, a sure fire hit. But, before that, fans of the horror director will get scared again – this time with Insidious: Chapter 2.
Wan's sequel to the 2010 horror film, which was a surprisingly refreshing take on the horror genre, picks up where the first film left off. We rejoin the Lamberts as they try to put their lives back together. Husband, wife, and three kids realize that the ghosts have not left their home since the first film. All the original actors are back including Patrick Wilson, as Josh, the loving husband and father, who seems to have a bit of a mean streak, thanks to a ghostly possession. It's surprising that wife Renei, played by Rose Byrne has not left the house with her children, given the scare they received in the first film. But, like any good wife would, she sticks by her man, despite his troubling behavior. Remember, Josh killed medium Elise in the first film. Elise, played masterfully by Lin Shaye, returns in the second film, even though she is a ghost. Angus Simpson also reprises his role as Tucker, while co-writer Leigh Whannell returns to play Specs. Steve Coulter does an admirable job playing Carl, a medium who is friends with Elise.
While the sequel ties up all the loose ends of the first film quite nicely and even adds a little, fans shouldn't expect anything groundbreaking. Wan sticks to the script in Insidious 2. The director knows what worked in the first film and the audience gets plenty of quick scares in the second film. I thought the movie turned out better than I expected. Horror sequels aren't known for being as scary, or as good. Specs and Tucker manage to provide a little comic relief, which blends well with the tenseness of the film.
Overall, I can't complain too much about Insidious 2. It's an effective sequel. Wilson's performance is a breath of fresh air, as he usually plays the nice guy. The creepy violin score is still there, which I thought added a lot to the original. Wan does his best to pay homage to films like Psycho and The Shining in the sequel. At times I felt like Wilson was trying to copy Jack Nicholson's performance from The Shining. The time travel aspect of the film is also intriguing. Wan also did a fine job in teasing a possible third installment in the franchise, however, if there is a third it will be a while since Fast 7 is currently in production. If you are looking for a few scares and maybe having a date grab up on you in a movie theatre, Insidious 2 will deliver. While not as great as The Conjuring or another favorite horror film of mine from this year, Maniac, Insidious is a solid way to spend a couple hours.
I give Insidious: Chapter 2 a B.