Play "Gloria" – The St. Louis Blues Are the 2019 Stanley Cup Champions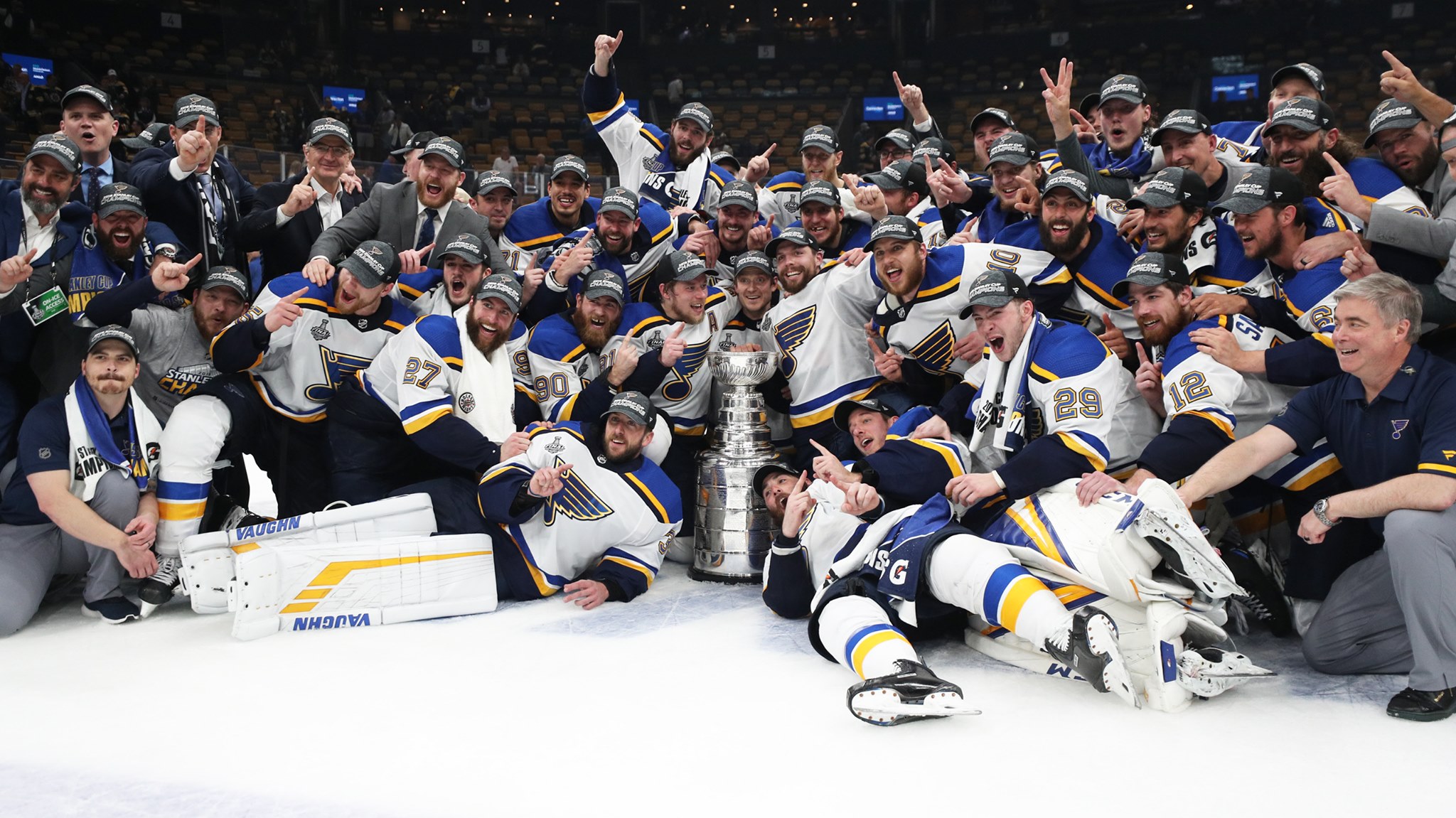 That's not how you're supposed to win.
You don't win with an "interim" head coach after firing your head coach 19 games into the season. Definitely not with an interim coach who, before this, was mostly known as a goon who amassed 3,149 penalty minutes in 1,054 games.
You don't win with a team that resorts to fighting each other at practice.
You don't win with an underperforming team that was rumored to be considering trading just about everyone on the roster in December. When the fanbase is hearing rumors of the team captain and leading goal scorer being available via trade, it's probably time to pack it in for the season.
You don't win with a rookie goaltender who started the season fourth on the depth charts. You need an established star goalie who can carry the team; if your hopes and dreams rest on a guy who got loaned out to another organization last year, you're screwed.
You don't win when you're a cellar dweller after the new year. If you haven't figured it out after three months, you're not going to figure it out in the last three months.
You don't win with an average offense that ranked 15th in goals scored. You need at least a couple of point-per-game guys. If your leading goal-scorer in the playoffs only scored 11 goals in the regular season, you're probably in trouble.
You don't win with a physical game that's reminiscent of old-school hockey. Today's NHL is all about speed and grace and dizzyingly beautiful playmaking. That rough-housing body-check everyone style isn't going to cut it if you don't have the skillset to back it up.
You don't win playoff series against teams that dominated you during the regular season. They beat you then, there's no reason to think things are going to be any different.
You don't win with a losing home record in the playoffs. That's literally never happened before. If you don't take care of business on your home ice, you're boned.
Right?
"Eh." – Jordan Binnington, probably
In a world of sports that's taught us to always expect the unexpected, I don't think anyone in their right mind would have envisioned this. I'll admit I never did. I was ready to write this season off and start rebuilding. I thought Jay Bouwmeester was done after his rather sluggish start to the season. I didn't think Vladimir Tarasenko was going to rebound from his surgery this season. I thought Ryan O'Reilly was a sexy beast.
Well, okay. I got that one.
But of course, their first title season couldn't just be a walk in the park. They didn't dominate the regular season at a historic pace like the Tampa Bay Lightning did. The closest they had to a point-per-game player was O'Reilly, who had 77 points in 82 games.
They didn't cruise through the playoffs. They tied the record for most playoff games played, 26 (out of a possible 28). They went 6-7 at home during the playoffs, the first team in history to win the Cup with a losing home record. This team started playing on October 4 (not counting the pre-season), so they've been playing hockey for eight and a half months, 108 games in total. These playoffs were the equivalent of 31.7% of the regular season.
It's funny, though, as exhausted as they are, they didn't seem to have any problems hoisting that trophy over their heads.
It wasn't easy for them. But this is St. Louis, where nothing comes easy. This won't go down as one of the most beautiful teams in terms of playstyle. This was a team that won through defense and hitting hard. And sure, that hitting occasionally got them in trouble; let's not pretend otherwise. But they never stopped, and they repeatedly dug themselves out of that hole.
I consider myself fortunate in that I have a lot of friends who offer me extra tickets to Blues games, so I rarely have to pay for tickets. On one such occasion, I happened to be in the stands when the Blues raised Bobby Plager's 5 into the rafters. I'll never forget the raw emotion when they paused it to lower his brother Barclay's 8 so they could raise them both side by side, all while playing the score from "Band of Brothers." There wasn't a dry eye in the house.
As I watched last night from Enterprise, section 105, row E, seat 2, I turned to my friend Kat, with whom I've  gone to several games in years past, including playoff games that've ended in both celebration and heartbreak. No words, we just embraced and cried on each other's shoulders for a good 30 seconds before we could compose ourselves. What better moment to share with each other and 18,400 of our newest best friends?
We still have to wait for some things, though. We wait for Saturday, when 100,000+ will descend on downtown St. Louis to watch the parade. We wait to hear the results of the season's award ceremony.
And we wait for October, when the St. Louis Blues will raise that one banner they've so desperately sought for 52 years into the sky. There it will join the names and numbers of the legends on whose shoulders this team stood on to finally ascend to the top. I'm willing to bet a few tears will be shed.
We will wait for those things. But for now, we take comfort in knowing the 52-year wait is over.
16 down. 0 to go. Let's go, Blues.