Interview With International Opera Star David Pittsinger About "South Pacific" at the Fox Theatre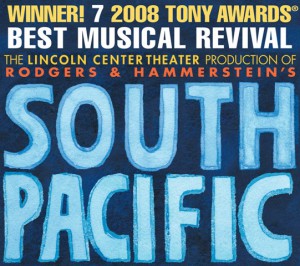 Rodgers & Hammerstein's "South Pacific" will grace the Fox Theatre stage for 16 performances, November 9-21!
I had the pleasure of speaking with David Pittsinger, an international opera star with over 20 years of experience performing around the world.  He filled me in on his past, how he became an actor, and what its like to play Emile de Becque in the first revival of Rodgers & Hammerstein's "South Pacific" in 60 years!
DAVID PITTSINGER (EMILE DE BECQUE). Broadway: South Pacific (Lincoln Center). Metropolitan Opera: Tosca (also live HD cinemacast), Hamlet, Lulu, Die Zauberflöte, Don Carlo, Rake's Progress, Giulio Cesare, La Bohème, The Magic Flute. NYCO: Don Giovanni (Don Giovanni), Nozze di Figaro (Figaro), Orlando (Zoroastro). U.S. & International credits include: Don Quichotte (Don Quichotte/Vienna, Teatro Colon Buenos Aires), Tosca (Scarpia/FGO), Nozze di Figaro (Count/La Opera) Faust (Mephistopheles/L'Arena Sferisterio, L'Opera de Montreal), Mefistofele (Mefistofele/I Solisti Veneti, Pittsburgh), Rake's Progress (Nick Shadow/Paris, Brussels, Hamburg, Bordeaux,), Carmen (Escamillo/Montpellier, Santa Fe). Orchestral appearance include: Vienna Philharmonic,, Salzburg Festival, Dresden Festival, NY Philharmonic, LA Philharmonic, ENO, St. Luke's Chamber Orchestra. Discography includes: Charles Ives Songs, La Calisto, Carlisle Floyd's Susanna. Awards: "Artist of the Year" Awards from NYCO and Pittsburgh Opera. MM: Yale.
Check out more at www.davidpittsinger.com.
---
Kevin: When did you get your start with singing and performing?
David:
I really started in the church choir as a boy soprano; I guess when I was about 8 or 9.  My son is also following in those footsteps.  He's a professional boy soprano with the St. Thomas' Choir of Men and Boys in New York City, and boards there at the school.
K: You are internationally recognized for your opera career.  When did you decide that you were interested in opera?
D: I went to the University of Connecticut to play soccer, and I was really interested in politics.  I had been a summer intern in Washington, D.C. for Senator Weicker. I was a Republican intern.  Then, I don't know, after my first semester of my freshman year at University of Connecticut I started missing some of the involvement in music that I had all through high school and middle school.  I played trombone and piano, and sang, and did a lot of shows.  And after high school, I did Summer Stock. I was sort of missing it in my college curriculum.
They were offering a scholarship which would enable me to stay in school, and I realized that maybe professional sports were going to be too difficult, or unobtainable, and I better find something that was missing from my life at that time. I went and auditioned on trombone, and when I took my pitch exam they said, "Wow, you have a really nice voice.  Have you ever sung?" And I said, "Yes." They said, "Well listen.  If you would consider joining the opera and voice department we'll give you a scholarship."  So I met my teacher and mentor, Richard Cross, and spent 3 ½ years there and got my bachelors.  I then went on to follow him to Yale. He left, along with his wife who runs the opera department at Yale, Dorsey Cross.  I went there and I got my masters.  From there I was sort of off and running.  I did a couple of programs; one through the San Francisco opera called Merola, and then went right to Europe and started my career.  I was basically 23 years old when I started singing opera professionally, and was singing all over Europe. Working in different languages, and assimilating cultures, and different musical styles, and languages.  It was a great life.
Part 1 | Part 2 | Part 3 | Part 4 | Part 5