New "Your Highness" Poster Starring Golden Globe Nominees Natalie Portman and James Franco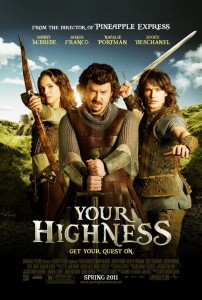 As if you need another reason to see this movie.  You have the hilarious Danny McBride.  Zooey Deschanel looking beautiful.  James Franco being heroic, and Natalie Portman's butt.  Sounds like all the ingredients needed for a blockbuster.  But will Your Highness be comedic gold?
Just in case you need more reason to see it, here is the new poster for the film.  Which really a poster has little effect on whether you see a film or not.  It seems odd to me that they wouldn't include Zooey in the shot, but honestly, she is not the main reason that you are seeing this film. 
When Prince Fabious's bride is kidnapped, he goes on a quest to rescue her… accompanied by his lazy useless brother Thadeous.
The comedy hits theaters on April 8, 2011.
Is this something you are looking forward to?  What do you think of this poster?  Let us know why in the comments below.