Cirque Dreams Holidaze Sets New Christmas Tradition For St. Louis Families


The holiday season is upon us, and what better than to gather with your family and celebrate with a classic show? Well, I'll tell you what might just be better – Cirque Dreams Holidaze!
This is not your parents' circus. Cirque Dreams Holidaze is a rock opera, circus, musical, and holiday show – all rolled into one! The premise of the show is that the ornaments of a Christmas tree have come to life, and we can see what they do when we aren't looking. The costumes are bright and beautiful, and all of the holiday favorites can be found. There are reindeer, gingerbread men, toy soldiers, penguins, puppets, Santa Claus and Mrs. Claus and many more! Lucky for us, the ornaments that we get to see come to life are some of the most talented performers from around the world.
There are so many spectacular performances throughout the show, that it is hard to know where to start. So I will take it from the beginning. After the curtain is lifted, and we are introduced to the spectacular set – showcasing the magnificent 24-foot-tall Christmas tree. The show is narrated by song throughout, performed by the Angel (Kelly Pekar), Ice Queen (Emily Matheson) and Dickens (Jared Troilo).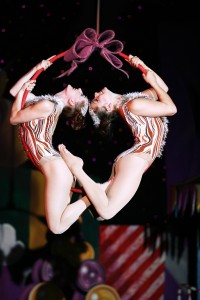 During the first half of the show, we see the Ragdoll (Alexander Rebkovets) climbing up and down a single ladder – balancing while jumping from side to side. Then prepare to be dazzled by two reindeer (Molly Murcia and Rebecca Starr), flying through the air while maneuvering their bodies in and around a single hoop. It is incredible to see the ladies hanging on by nothing other than a foot or one hand at times – even while supporting each other's weight. And the fact that they do this entirely without any safety harnesses or a net is mind-blowing.
Next, the Candelabra (also Alexander Rebkovets) balances three or four levels of glasses on his head, surrounded by flaming candles, while walking up one side of a ladder and down another. It is hard not to cringe every time he takes a step, as you surely think that there is no way it can be done. But by the end of the number, each item is pulled off of his head, one-by-one, and in tact.
Santa even makes an appearance in the show – but this isn't the big, round, jolly ol' St. Nick that you are thinking of. Santa Claus (Madiyor Khusinov) has been working out, and boy does it pay off. He and Santa's Helper (Negina Ivanova) show their true strength as muscular old Kris Kringle balances the young gymnast one handed while setting up for a variety of flips and tricks. Then along comes Scrooge. The show once again follows suit, as Scrooge is much younger and in much better shape than the classic Dickens character. As two ribbons drop down from the ceiling, Scrooge wraps one arm around each and immediately starts climbing to the top – using pure strength to gracefully propel his body through the air.
Many Cirque shows have some sort of jump rope act, but I have never seen anything the likes of the one in Cirque Dreams Holidaze. The performers start off with some simple jump roping, leading into a skilled double-dutch routine. But from there, they start doing front-flips and back-flips, jump roping while within another jump rope. And they even jump rope while on each other's shoulders – while within another layer of jump ropes. It is truly an incredible act of strength and precision. The timing has to be perfect, and near perfection the performance is.
After the audience is hit with a barrage of gravity defying tricks, they are introduced to some good old fashioned comedy to lighten the mood. An Elf Conductor (Marcello Balestracci) sends his reindeer assistants into the audience, looking for helpers to assist him in ringing a variety of different sounding bells. This is a great act, which keeps the fun going and has the entire audience laughing. It's pretty neat to see what happens when you get the audience to participate in the show, which Cirque often does at one point or another during their shows, and it's a great time.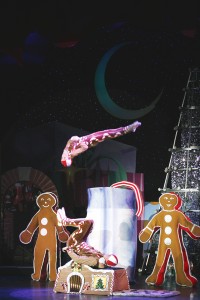 The first half of the show closes with gingerbread cookies (Tewodros Ayana, Angesom Bishiou, Tekle Gebregziabher, and Firtuna Gebremedhin) flipping around the stage, using each other as platforms to launch one another effortlessly into the air. It is incredible to see the pure strength of their legs and arms, as they support each other from a sitting or standing position. They perform a variety of flips back and forth, one flying over another as they pass between each other. It is a great, high energy act to lead into intermission and get everyone pumped up for the last half of the show.
Just when I thought that the last hour or so of the show couldn't get any better than the first, I was proven wrong. The last half of Cirque Dreams Holidaze is full of non-stop, high flying action. We see the Ice Man (Bret Womack) climb a rope from the floor to the ceiling, wrapping himself in nothing but the rope and rolling down to just feet above the ground – only to be caught in the knot that he has tied seconds before. Watching the way he quickly maneuvers around the rope, and intricately tangles it around his body is incredible. Each movement is so precise that it's unbelievable that he can concentrate on each and every loop while suspended high above the stage.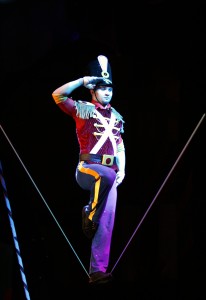 The Drummer Boy (Jose Caycedo Casierra) is a tightrope walker in the show, but is more of a tightrope acrobat. As he jumps onto the tiny rope and somehow uses it like a trampoline to propel himself high into the air for a variety of tricks. Each time he lands on the rope after one of his aerial feats is more incredible than the last. He builds into a dismount that involves him clinging onto the tightrope, spinning around several times and landing after a number of flips. Simply incredible.
I've never seen an a Cirque performance on roller skates, but sure enough this show has one. The Penguins (Karel Johan De Vor and Marina Marques) come out, and are unveiled to be atop a small, round platform. The diameter of the platform can't be any wider than 10 feet or so. Then the female Penguin is lifted into the air as the male Penguin skates around the tiny circle – wrapping her around his body. They do a routine which, like most of the other performances throughout the night, is unbelievable. The strength and balance that it must take to skate in a circle while holding another person that is maneuvering through the air is hard to comprehend.
The last act of the show is one of the best of the evening, which speaks highly of it's two performers. Two silks made of chiffon dangle from high above the stage, as the Aerial Angels make their appearance (Marque and Becky Ohmes). With elegent movement, the two dance with each other over to the silks, as each one wraps themselves into the material. Each of their tricks is done as a couple, and most of the time only one will be wrapped into the silks. That means that one of them is holding on to the other, as they fly through the air during a variety of tricks. The strength it takes to hold one another, often with only one arm or one leg, is truly remarkable to observe. After a wonderful performance, the entire cast reunites on-stage for their curtain call.
Cirque Dreams Holidaze is unlike any other holiday show I have ever seen. Even after seeing many different Cirque performances, as well as different Circuses from around the world, the tricks and acts throughout the entire show seemed new and unique. Cirque Dreams Productions has gathered some of the best performers from around the world, and combined them into a show that is sure to be a new holiday tradition for families all around the country. Make sure to add it to your list this season, and I bet you won't be disappointed.