New York, I Love You – DVD Review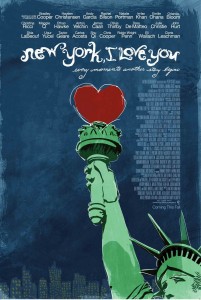 The 2nd anthology film in the I Love You series this time stops in New York and the results are just as great as the Paris anthology, Paris, Je T'aime.
The film follows a loosely connected group of individuals as we watch their experiences with love through a series of short films and connecting vignettes.  The stories involve a just dumped boy who gets a last minute prom date, a composer and an assistant who bond through their many phone calls, a couple of strangers outside a restaurant, a confident and tad overzealous smoker trying to pick up a not so forth coming women, a pick pocket and a girl that catches his eye, an jeweler and his client, an long lived and nagging couple, an assumed one night stand deciding to meet again, an aging star revisiting an old hotel, a painter and his longed for muse, a video artist capturing people around town, and the bond between father and daughter even if no one believes they are related.
The film runs a broad range of relationships from young to old and new relationships to fracturing ones.  Each film achieves its own distinct look and feel and while it isn't as diverse as Paris, je t'aime, both visually and creatively, the shorts each define themselves as their own.  This iteration of the series is far less defined from one short to another as there are transitions that bring back older characters constantly and really blend the line of short film compilation and feature narrative.  I am on the fence though over which one I prefer, the straight forward transitions of Paris, to the blurring of New York, but it does allow both films to kind of form their own identity even with their very similar themes.
Like I touched on briefly above, it would have been nice if they showed a tad more creativity and oddity in the films here as some of the weirder shorts in Paris gave it a more definable character as a whole.  This iteration is far more straight forward and accessible though, with only one kind of out there segment and that odd piece feels a bit out of place with the more traditional stories.
The actors in the film are great through out with Ethan Hawke and Maggie Q having one of the more memorable interactions in the film.  Hawke really shines as a familiar fast talking role for him, but it is just great to see him go unhinged.  Eli Wallach and Cloris Leachman also have great chemistry as a nagging couple, and Bradley Cooper is entertaining every time he pops up in the picture.  Anton Yelchin and Olivia Thirlby are also standouts in their fast paced and surprising encounter.  Chris Cooper and Robin Wright Penn shine as well in their "chance" encounter on the street and Shia LaBeouf shows some acting chops in his scenes as well.  The actors give some great work for their directors and they run the international gauntlet from old pros to rookies.  Jiang Wen, Mira Nair, Shunji Iwai, Yvan Attal, Bret Ratner, Allen Hughes, Shekhar Kapur, Natalie Portman, Fatih Akin, Randy Balsmeyer, and Joshua Marston all direct here I think the high points come from Mira Nair and Yvan Attal.
In the end, New York, I Love You is a successful anthology with a little bit for everyone and plenty of creative spark to set it apart from being just a bland romantic endeavor.  Full of a lot of great actors and behind the scenes talent it is hard for this film to fall short, and it never really does, and it will hook you in till the end as it keeps things quick and fresh jumping from one story to another.
New York, I Love You is an A-
Stream it on Netflix now!