Bronson – DVD Review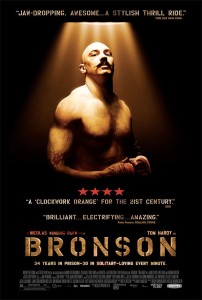 Nicolas Refn's Bronson is a portrait on Britain's most dangerous inmate who is portrayed in an incredible performance by Tom Hardy through a journey of solitude and violence told with incredible style.
Bronson, or Charles Bronson, is our title character – but not that Charles Bronson.  Our portrait is of Michael Gordon Peterson who adopts the name Charles Bronson after, yes, that Charles Bronson.  Peterson's first trip to prison came after robbing a post office as a young husband and once incarcerated that is where his story began.  Peterson claims he always wanted to be famous and since he didn't have any traditional talents he would have to take a different path to fame; that being a violent and antagonizing prisoner that does nothing but raise hell.  Peterson's fame at first is contained to his inmates who love him for his physicality towards the guards but the wardens get to know him so much they start sending him off to another prison to get him off their hands.  His life includes countless beatings, both delivered and received, a trip to a mental institution, and lots of time alone.
Peterson adopted the name Bronson after being let out of prison, an attempt to straighten him out banking on the fact that he wouldn't treat normal citizens the way he treats guards, and this was his stage name for when he became a bare knuckled boxer.  He ends up back in prison though and his exploits become even more elaborate and almost unbelievable.  Watching this man and trying to make sense of him is almost too much to ask, but if you sit back and just watch in shocked awe at the life this man has chosen to live you can not help but be compelled.
Bronson's story would be compelling if told through a traditional documentary narrative but Tom Hardy brings the man to life and delivers one of the best performances of the year.  The rage and insanity of the man is incredible and you forget that you are watching an actor and fully believe that we are watching Bronson put up on the screen.  The physicality and instability he displays is just remarkable and Hardy will mesmerize from start to finish.
Refn also deserves a lot of credit as well for his brilliant use of music and innovative imagery that keeps the film alive and fresh while it blisters through to the finish line.  The stage sequences seemed just a tad out of place, but just as many worked fine compared to the ones that might have slowed things down a hair. There are countless incredible shots, made even more so impressive by the scant budget this film was made for, and I can't wait to see what Refn does next.
In the end, Bronson is an experience worth visiting and is an incredible true story.  Tom Hardy delivers one of the finest performances of the year and has cemented himself, along with his director, as two names to keep an eye on from here on forward.  With lots of visual flair and a blazing pace you won't find much room to breathe as you dive into the hellish fury of a world that Bronson lives in.  A great picture and an incredible story brought to life that deserves to be seen by far more viewers than have laid eyes on it.
Bronson is an A-
You can rent this now on Netflix or at your local video store.