Johnny Weir 6th, Evan Lysacek Wins Gold in Men's Figure Skating – 2010 Winter Olympics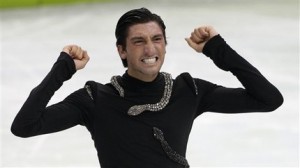 A Favorite of many watching the 2010 Winter Olympics, Johny Weir came in just 6th place while skating for the gold medal. In good news, US Champion and fellow American figure skater Evan Lysacek was able to clench 1st place.
Lysacek earned 257.67 points in the competition, defeating defending champion Evgeni Plushenko of Russia. This is the first gold medal for the US in the event since Brian Boitano won it in 1988. Daisuke Takahashi finished in third place, becoming the first male figure skater from Japan to medal in the Olympics.
Johnny Weir has said that this will most likely be his last competition in the Olympic games. Weir has his own television show on the Sundance Channel, "Be Good Johnny Weir," which explores the life of the pro figure skater. Weir, 25, said "I am going to skate in the World Championships and then I have to decide how long I want to stay on vacation. He added, "In figure skating your body can only last for so long. I can't be 50 and trying to skate but I can be 50 and be in fashion, so I have to look to my future and what I want to achieve." Weir told Yahoo! Sports, "I want to create art more than anything and the way I want to do it is through fashion. I want to go to the Fashion Institute of Technology in Manhattan and really learn the basics of fashion from the ground up."
Watch a recap of Men's Figure Skating at the 2010 Olympics in Vancouver below: