Tiger Woods' First Public Photo Since Scandal, Jogging With Corey Carroll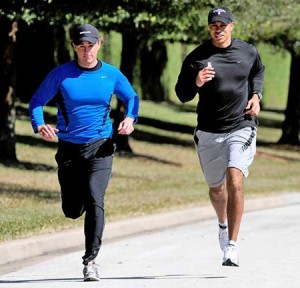 In his first public photo since the big scandal, Tiger Woods was captured jogging with his protege – 23-year-old Cory Carroll.
According to TMZ, Carroll met Tiger Woods when he was 17-years-old.  The two are now training partners, practicing and working out on a daily basis.
Visit TMZ for more information on Tiger Woods and Cory Carroll.