New Poster for "The Rite" Starring Colin O'Donoghue, Anthony Hopkins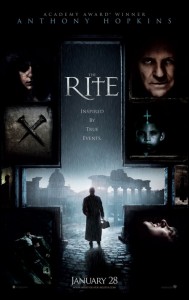 I am still on the fence about The Rite.  The newest trailer I saw looked alot better than the first.  I just feel like how many different exorcism movies can you make.  The idea and concept seems old to me.  But I am sure the people in Hollywood that make the movies know a lot more than I do.  Uh huh.
I also am not the biggest Anthony Hopkins fan.  I think he is a very acceptable actor, but realistically he has been playing the same type of character since Hannibal Lector.  Which just proves to me that the man is a genius who can convince any studio that his character will fit into any movie. 
So strike one is Hopkins playing a similar character.  Strike two is that the film has a release in January.  Which is actually worse than getting released in September.  Honestly, name me a great movie that was released in the month of January.
So this film is close to striking out.  But like I said I liked the new trailer, and I like this new poster.  Yeah there is a lot going on.  But it's got some creepy images on it.  I guess time will tell.  I am still willing to give the film a shot.  It's just real close to being a bust for me.
Are you excited about this flick?  What's your favorite exorcism film?  Let us know in the comments below.