New Drunk History! Douglas & Lincoln, Starring Will Ferrell & Don Cheadle (Viral Video)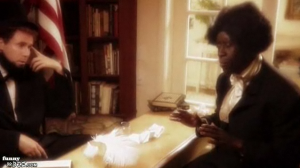 I'm sure by now you have seen the previous "Drunk History" videos – starring the likes of Michael Cera, Jack Black, Danny McBride, and Paul Schneider (watch them here). Well now you can add Will Ferrell and Don Cheadle to the mix.
In the latest Drunk History viral video, "Douglas & Lincoln," Will Ferrell plays Abraham Lincoln alongside Don Cheadle as Fredrick Douglas. This video is hilarious. I don't want to spoil it, so just watch it!





Unfortunately, this is just a clip of the video. The entire "Drunk History Volume 5" will air tonight, during Funny or Die Presents on HBO at midnight.