NANNY MCPHEE OPENS AUGUST 20 NATIONWIDE.
Enter for your chance to win a pass, good for two!
Synopsis: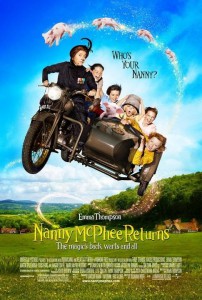 In the latest installment, Nanny McPhee appears at the door of a harried young mother, Mrs. Isabel Green, who is trying to run the family farm while her husband is away at war. But once she's arrived, Nanny McPhee discovers that Mrs. Green's children are fighting a war of their own against two spoiled city cousins who have just moved in and refuse to leave. Relying on everything from a flying motorcycle and a statue that comes to life to a tree-climbing piglet and a baby elephant who turns up in the oddest places, Nanny McPhee uses her magic to teach her mischievous charges five new lessons.
In order to enter the contest, become a fan of ReviewSTL on Facebook and suggest ReviewSTL.com to all your friends (click the "suggest to friends" link on the left side of the page). Then post a comment on the ReviewSTL fan page telling us why you want to see the movie! NO PURCHASE NECESSARY. PLEASE REMEMBER TO READ THE RULES!
SCREENING IS TUESDAY, AUGUST 17.
Good luck! We hope to see you at the movies!
[hdplay id=121 width=595 height=375]