Movie Review: "Walking Man" – St. Louis International Film Festival Selection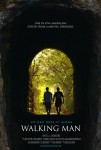 After a Missouri high school loses three students to suicide in seven weeks, a father and son walk 200 miles across the state to find an answer to Missouri's rural suicide epidemic. Both men suffer from bipolar disorder, sharing their struggles with strangers and each other for the first time.
We're about halfway through the St. Louis International Film Festival and last night gave us a bit of a home town story. It featured the World Premiere of a new documentary called Walking Man. Mark Norwine stars as the central focus of a new documentary from local filmmakers Joshua Salzberg and Eric Norwine (son of Mark). Brought about by a string of local suicides at St Clair High School, Walking Man follows Mark as he walks the Katy Trail from Kansas City to St. Louis in order to raise awareness of the effects of the stigmas of mental health, suicide and bullying. Not only does it achieve that goal, but it does so in a refreshing way that treats its audience with respect.
Documentaries of this kind are often over-produced and wrought with manipulative story beats. That is not to say, however that Walking Man is poorly produced or unsympathetic. The film is expertly shot and features artful framing and composition in virtually every scene. Mark's story is deeply personal and only becomes more engaging the more we see of his family. One of the most touching aspects is watching Eric Norwine follow his father on his journey across Missouri and learn about the darker corners of his father's depressive episodes. Mark's wife however brings the most emotional resonance and works as a likely stand-in for many audience members as she details her struggle to not only understand her husband's emotional turmoil, but support him through it.
While the world premiere was a limited one night engagement, popular demand has allowed the filmmakers to arrange a second screening this Saturday at Wehrenberg's St. Charles 18 Cinema at 11am.