True Grit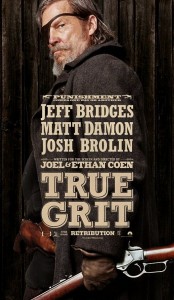 "True Grit" is the stuff that remakes are made of. Based on the beloved 1969 western starring John Wayne, Joel and Ethan Coen have taken a great story and made a film that surpasses even the original.
14-year-old Mattie Ross (Hailee Steinfeld) is on a mission to track down the man who killed her father – Tom Chaney (Josh Brolin). Searching for someone that will help her track down the killer, she enlists the help of seldom-sober U.S. Marshal Rooster Cogburn (Jeff Bridges). Along the way, they run into a Texas ranger named Le Boeuf (Matt Damon) who is also looking to bring Chaney to justice.
The film is beautifully shot, and will surely be a front runner for an Academy Award thanks to Roger Deakins' cinematography. The film is reminiscent of the way it used to feel to watch a classic western, and the story really comes to life on-screen.
The entire film is acted wonderfully by the cast, which includes the lead role – played by newcomer Hailee Steinfeld. Steinfeld does an incredible job in her first role, and the fact that she was only 13 during filming is even more amazing. Her character is supposed to be only 14-years-old, so she pretty much fits the bill. Kim Darby was closer to 20 when she took on the role in the original film, which is understandable due to the difficulty of the character. But in the modern version, Steinfeld really knocks it out of the park.
Jeff Bridges gives one of his most memorable performances as Marshal Rooster Cogburn. As rough as the character is, you just can't help but to like him. Bridges has taken the character and truly made it his own; never does it look like he is trying to mirror John Wayne's performance. He plays the drunken, lovable lawman with ease as he leads young Mattie into Indian territory to track down her father's killer. And I can't forget Matt Damon, who plays the Texas ranger Le Boeuf. This is probably one of my most favorite roles I have seen him in to date.
"True Grit" is one of the most accessible Coen Brothers films to date. It is a film that will appeal to not only fans of the original, but to moviegoers both young and old. It is an endearing story, that translates perfectly to modern times. There is nothing lost in translation when brining the courageous story of young Mattie Ross to modern rimes. "True Grit" is one of the best films of the year, and will go down as another classic that will be a pleasure to watch time and time again.
TRUE GRIT is an A