Movie Review: "Soul Surfer" with Carrie Underwood
Soul Surfer is the kind of movie that will be described with words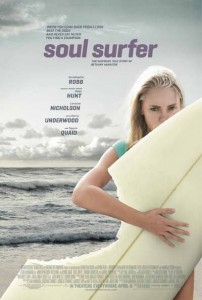 like "touching", "heartfelt", "uplifting", and "inspirational". It is all those things, but it's pretty sappy too.
Soul Surfer tells the true story of Bethany Hamilton, a young surfer who loses her left arm to a shark attack and finds the courage to surmount all odds and compete in the national youth championship for surfing.
Soul Surfer was shot a small budget, judging from the apparent inability to afford shirts for most of the actors, but it works for what it intends to do. Directed by Sean McNamara (no, not the character from Nip/Tuck) whose credits include That's So Raven, Even Stevens and 3 Ninjas: High Noon at Mega Mountain, Soul Surfer is the kind of movie you'd expect from Nickelodeon or ABC Family. A feel good family movie with nary a cuss word or offensive situation in sight. Soul Surfer is a very "nice" movie.
AnnaSophia Robb, who plays young Bethany does an adequate job in the acting department, but lacks the charm of her older work, i.e. The Bridge to Terabithia. The other young actors struggle as well, which is perhaps why they brought in some heavy hitters for the adult roles, like Dennis Quaid, Helen Hunt, Craig T. Nelson and…Kevin Sorbo? Yes, even Kull the Conqueror does a pretty good job.
Soul Surfer will work best with Christian audiences as the film is very strongly rooted in the characters faith in Christ. Carrie Underwood in fact, plays the youth group leader of Bethany and her Hawaiian friends. The Christian aspect feels forced at times and will put off some viewers, but even if only for Bethany's short-lived struggle with faith, it ultimately works for story.