Movie Review: 'Sex Tape' Starring Jason Segel and Cameron Diaz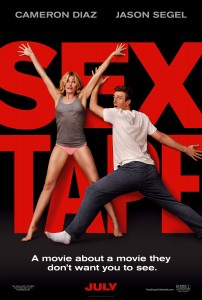 Sex Tape is yet another film that is destined to be panned by critics, but reasonably enjoyed by audiences. Most moviegoers will head to their local cinema, enjoy a popcorn, and have a few laughs and wonder why critics hated this movie so much. At the time this review is being written, the film sits at a score of 16% on the movie review aggregator RottenTomatoes.com. Many will find this score low for a movie that entertained them for a bit of their free time. Sure, a few will share the derision of the critics, but most people will be able to find enough to enjoy. There are a number of laughs, a couple outlandishly funny characters, and enough racy humor for most adult moviegoers. So, why do critics hate it so much?
Let's start at the beginning. Sex Tape follows Annie (Cameron Diaz) and Jay (Jason Segel), a couple fast approaching middle age, who like many people with children, find their sex life almost non-existent. This is in stark contrast to the early portions of their relationship where sex was a driving force in their love for each other.  Annie's thoughtful narration takes us through this early portion of their relationship, where she describes every scary detail of their sex life, including items like Jay's constant erections. Their current situation of parenthood has robbed them of the time and energy, and most importantly the sex life they thought they would always have. This situation leads to an inspiration by Annie. A night away from the kids to rekindle the romance.  Despite many false starts, the couple finally spices up their life by creating a sex tape using their iPad.  Unfortunately for them, the video is uploaded to the cloud, and to numerous devices they've given people over the years.   The couple must quickly track down all their devices, and erase the video before their closest family and friends see their special moment.
On paper the premise sounds pretty funny, if not a bit cringe worthy. The film manages to produces enough laughs, but follows up with a thin plot stretched to the point of exertion.  Much like director Jake Kasdan's last feature, Bad Teacher, it struggles to find the correct tone. The film seems to be unable to decide if it is a sweet rom-com about the struggles of married life, or a raunch-com about a sex tape.  The raunch feels very forced and unnatural when compared to films like The Hangover, Horrible Bosses, etc.
The film is another writing team-up with Jason Segel and his writing partner Nicholas Stoller who have had hits like Forgetting Sarah Marshall, Get Him to the Greek and The Muppets.  The pair had their first major misstep with 2012's The Five Year Engagement, which suffered due to its length, and once again problems with the tone. All the films (except The Muppets) feature casts with strong improvisational skills, and one wonders if that is where the problem came in this film. Did director Kasdan not reign them in enough? Was he too focused on cheap laughs that he forgot to craft an intriguing story? Whatever the case, the final product is lacking compared to the talent displayed on screen.
Segel continues to be an affable everyman, but loses a lot of that charm to over the top injuries later in the film. Diaz is serviceable, but is never quite believable as a mommy blogger. The real standout in the film is Rob Lowe as a family friendly CEO with a darkside.  The heartiest laughs in the film come from interactions with him. Supporting cast members Rob Corddry and Ellie Kemper are also a small bright spot in the film.
The film works more effectively as an Apple commercial than it does as a comedy sometimes.  iPads are integral plot devices in the film, but Sex Tape could've used a few less moments extolling a product's virtues, and instead created more laughs. It's still a serviceable comedy, but with the pedigree involved, it's not wrong to expect more. Most audience members will find enough to enjoy, but don't expect it to hit the heights of some of the other highly rated adult comedies of the summer.
Grade: C+