Movie Review – "Paul" Starring Simon Pegg, Nick Frost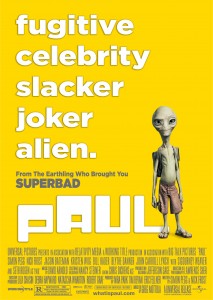 Directed by Greg Mottola ("Superbad," "Adventureland"), along with being written by and starring Simon Pegg and Nick Frost ("Shaun of the Dead," "Hot Fuzz), "Paul" has a lot to live up to. Mottola's last two films have been critical successes, the former of which did excellent at the box office as well. Pegg and Frost have made big names for themselves as the comedic duo from the UK, and have yet to upset their loyal fans. But can they go from zombies and cops to the extraterrestrial, and pull it off? Luckily, yes.
Graphic novel author Clive Gollings (Nick Frost) and illustrator Graeme Willy (Simon Pegg) are a couple of super geeks. There is no other way to put it. The two are co-creators of a sci-fi graphic novel that features a woman with three breasts as the hero ("Total Recall" shout out? I think so). They decide to take their first trip to the US in order to attend Comic-Con, and meet their idol – fellow graphic novel author Adam Shadowchild (Jeffrey Tambor). After meeting the author, and enjoying all that the convention has to offer, the two set off to tour all of the extraterrestrial sites across the States. But along the way, their RV narrowly avoids a car accident – the cause of which is most unexpected. From the wreckage, they are met by an alien named Paul (Seth Rogen), who has escaped a top-secret military base after being held captive for the better part of a century. The two reluctantly agree to help him, which leads to an adventure the likes of which they could never imagine.
I am a huge fan of "Superbad" and "Adventureland" – not to mention Simon Pegg and Nick Frost. So going into the theater, I was of course anxious to see what "Paul" has to offer. It's always scary going into a movie with high expectations; especially when you are a fan. I am happy to say that the film is a lot of fun. For fans of sci-fi and pop-culture, "Paul" is chock-full of references that will have you laughing around every turn. However, the film does not alienate (pun intended) non-geeks in the audience, which is a huge plus.
Simon Pegg and Nick Frost are three for three with this one. So far, it looks like the duo can do no wrong. Although this isn't their best film to-date, it definitely is very entertaining. The fact that the two are talented writers, as well as actors, is what makes them stand out. There is no one that knows the material better than them, and they do a great job executing it. They are joined on-screen by several talented actors, such as Jeffrey Tambor, Jason Bateman, and Bill Hader. Bateman and Hader, along with Joe Lo Truglio, play federal agents that are assigned with the task of tracking down Paul and capturing him.
Keeping with the spirit of "Superbad," this film is definitely more vulgar than Pegg and Frost's last two. But with Rogen voicing the title character, what else can you expect? Most of the time, the execution was great and the profanity is pretty funny. There were a few jokes that fell flat, but overall they were done pretty well. This is the difference between professional comedians telling jokes, as opposed to people that don't know what they are doing. Just remember that the film is rated "R" for a reason. With that being said, if you are a fan of this type of comedy you probably won't be let down.
"Paul" is a fun movie that both sci-fi fans and non-fans can enjoy. There are a lot of references to popular films and geek trivia that will go right over some peoples heads, but it doesn't ruin the film if you don't catch them. Simon Pegg and Nick Frost are great as usual, and Greg Mottola has done it again. This is one of the funniest movies of the year so far, and is definitely worth a trip to the theater to check out.
"Paul" is a B