Movie Review: 'Parental Guidance' Starring Billy Crystal, Bette Midler and Marisa Tomei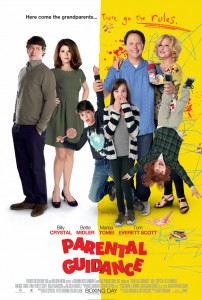 Where do I begin? I guess I could start by saying that this may be one of the worst movies I've seen all year. Parental Guidance stars Billy Crystal, Bette Midler and Marisa Tomei as a family with apparently significant mental health issues. Marisa Tomei and That Thing You Do's Tom Everett Scott play the worst stereotypes of new-agey, type-A, helicopter parents who find themselves having to leave town and entrust the care of their children to her old-school parents played by Billy Crystal and Bette Midler. Directed by the genius that brought us She's the Man, You Again, and The Game Plan, Andy Flickman seems to seek comedy in the form of the lowest common denominator.
One of the film's opening scenes foreshadows the type of tired, uninspired humor that permeates the next 100 minutes of our lives. Jokes about Facebook, Twitter, pokes, and tweets run rampant, reminding us how out of touch Billy Crystal really is. Ultimately, Parental Guidance is a one trick pony…and that trick happens to be boring as hell. The only saving grace for this film is the performances by Bette Midler and the three children. Bette Midler is responsible for the lone chuckle I expressed throughout the entirety of the film and the kids at least come off as genuine.
Parental Guidance is rated as the name suggests, PG. It's sad to think that this type of schlocky material is being peddled to our kids as "family entertainment". The bodily fluid jokes (they've incorporated all three: feces, vomit and urine) aren't necessary and the generation-gap jokes aren't funny. In the end, the film doesn't tell us anything we don't already know: kids should play outside and it's good to have self-esteem. BFD.
Worth Your Money
-Not Worth Your Money-
Worth Somebody Else's Money