Movie Review: 'Les Misérables' Strikes the Right Chord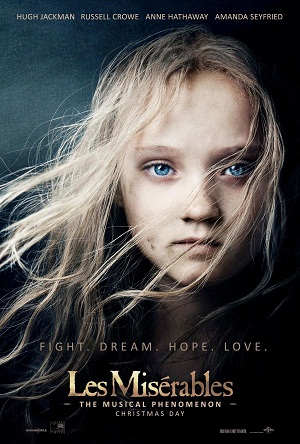 Oh, hey there. Been a while. Took a brief hiatus, but I thought I'd poke my head in and say hi.
Les Misérables is one of the most famous musical works in history. The musical on which the film's based has enjoyed incredible success since its first performance in 1985. Panned by critics, the audiences adored it, and it's been running in London since 1985, while the Broadway production lasted until 2003.
I have to admit, my friend Kat was a little more excited to see this than I. I've never been a huge musical fan (including animated Disney movies, I've seen a total of maybe seven or eight musicals in my life). Still, I promised I'd take her to see it as an early Christmas gift, and I'm a man of my word. She practically squealed with delight when I told her what movie we were seeing. I'm happy to say I was quite pleasantly surprised.
The film opens in  1815 France. Prisoner 24601, Jean Valjean (Hugh Jackman), has been in prison for nearly 20 years, five for stealing a loaf of bread, the rest for attempting to escape. To the chagrin of Inspector Javert (Russell Crowe), Valjean makes his parole. His initial elation turns to dismay as he realizes just how difficult his life will be. A social pariah, he must show papers indicating he is an ex-convict, which is about as well received by the public as a Cubs pennant race.
Finally, he ends up in the church of the Bishop of Digne, whose generosity even after Valjean attempts to rob him convinces Valjean to ditch his recidivist ways. Eight years later, he has become mayor of Montreuil-sur-Mer and a factory owner. One of his workers, Fantine (Anne Hathaway), is fired when she has a fight with her co-workers over some money she is sending to an illegitimate daughter living with an innkeeper and his wife. Humiliated, she turns to prostitution when she is found by Valjean. Stricken with sympathy and guilt over her firing, he takes her to a hospital and promises to look after her child, Cosette.
The film then segues into the nascent events of the 1832 June Rebellion. Valjean and Cosette (Amanda Seyfried) are walking through the streets when she catches the eye of Marius (Eddie Redmayne), one of the leaders of the rebellion. Knowing he may not survive the rebellion, he tries to reach out to Cosette, but Valjean intercepts the message. Determined to meet the man who has fallen in love with his daughter, he joins the rebellion, running into his old nemesis, Javert, once again.
It should be noted, if you choose to go see it but you're not a fan of musicals, you may be in for a long night. Actually, the movie runs for 2 hours 40 minutes, so even if you do like musicals, you're in for a long night. Unlike most musicals, which feature dialogue leading into the songs, there are almost no spoken words in the movie save for a handful of sentences. Dialogue and conversations are sung, which could lead to a bit of exasperation if you're not expecting it.
Having said that, the music and singing are, for the most part, phenomenal. Hugh Jackman is a veteran of musical productions, and his experience shows. He was the perfect choice for Valjean. Many of the other leads portray similarly strong voices; Seyfried, Redmayne, and especially Hathaway. I've always held Hathaway in high regard as an actress, but hearing her rendition of "I Dreamed a Dream" certainly opened my eyes (ears?) to her singing ability. That song alone gave me a higher regard for her musical ability than many of today's modern musicians.
The lone exception for me was Russell Crowe. I like Crowe; he's done a tremendous job in other films, and his acting in Les Misérables was absolutely fine. His singing, although in proper pitch, just wasn't nearly up to par when compared to Jackman and the rest. I certainly can't fault him for trying, but some people simply don't have the singing voice others do (I certainly don't – I always sang backup in the bands I was in, never lead, because I knew my voice just didn't sound nearly as good).
All in all though, the end product is a wonderful amalgam of actors and singers. Helena Bonham Carter and Sacha Baron Cohen are absolutely perfect as the innkeepers/guardians of young Cosette; their performance of "Master of the House" was masterfully done and had the audience laughing quite a bit. It's not easy to capture the energy and imperfect intricacies of a live performance, but director Tom Hooper did his best. Rather than dubbing the singing in a studio, Hooper instead recorded the actors singing during the scene, accompanied by a piano heard through an earpiece. The result captures the actors at their strongest and their weakest, at their most resolved and their most vulnerable, and it works well.
In sum, if you've got a significant other who's absolutely in love with the musical, you could do far worse than seeing Les Misérables with them. You could see Breaking Dawn: Part Two, for instance. You could buy a Taylor Swift album. Just beware: this isn't necessarily a light musical for someone with a passing interest. Kat, who teared up multiple times throughout the movie, offered the same: "I did like it…but it's a lot at once. I wouldn't recommend it to people who aren't big on musicals." With that in mind, if you've an interest in seeing it but are worried it wouldn't translate to the big screen, let your fears be allayed. Les Misérables is an excellent film with which to wrap up the year.
Les Misérables gets a B+.