Movie Review: 'Jack Reacher' Starring Tom Cruise, Rosamund Pike, Richard Jenkins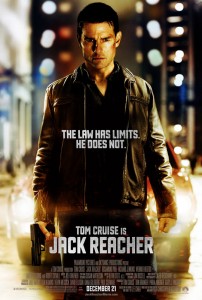 I have never read the books that the Jack Reacher character is based off of, but from what I've heard he is 6 foot 5 and 250 pounds. When you think of Tom Cruise, that isn't exactly the description that first comes to mind. But what we do know is that Cruise has a certain propensity to come off as a total bad-ass on film – and that more than makes up for it in Jack Reacher.
Jack Reacher (Cruise) is a ghost; a drifter with no place of residency, no cell phone, and no drivers license. He served in the military police overseas for over a decade, and then fell off the map. When a soldier named James Barr (Joseph Sikora), that Reacher served with overseas, is arrested for the murder of 5 seemingly random victims, he gives the police and his attorney Helen (Rosamund Pike) a piece of paper with only three words on it: "Get Jack Reacher." Before they could even figure out who he was or what the connection is, Reacher appears to confront the man that he vowed to put away many years ago.
Keeping in the Tom Cruise universe, the best way to describe Jack Reacher is a mix between The Firm and Collateral. The investigative nature of the film and intrigue is something I have always loved in movies revolving around law. And the action speaks for itself. While Reacher is trying to solve the case, we are trying to solve the mystery of who Jack Reacher really is. Many times the most interesting characters are the ones that you know little about – and having never read the novels by Lee Child, that was the boat I was in.
Cruise exudes a calm and collected appearance, while not wasting much time before you figure out that he is not someone to be messed with. The guy is 50 years old, but you would never know it by the shape he is in. The actor has more than proved with the recent Mission Impossible: Ghost Protocol that he can hold his own when it comes to action movies, and he shows no sign of stopping any time soon. Although his characteristics are a bit of a stretch from the character in the books, there is no doubt when you see him on-screen that he can pull it off.
Thinking back to some of the films in the same genre as Jack Reacher over the past year, I have to say that it is one of the most fun I have seen in a while. It's a solid action-thriller with an intriguing story line – and enough going on to keep even the most antsy action-buff feeling fulfilled. You can't go wrong with an entertaining, fast-paced popcorn flick around the holidays – and this one delivers. And for fans of the books – don't let the casting turn you off. Tom Cruise knows what he is doing, and I don't think you will be disappointed.
Jack Reacher is a B+