Movie Review: 'Pain & Gain' Starring Mark Wahlberg, Dwayne Johnson, Anthony Mackie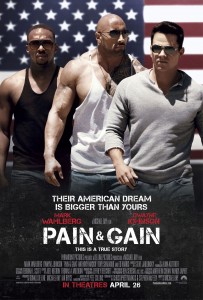 Michael Bay has been responsible for a number of less than stellar films over the years. Some of them were downright stinkers, i.e. Transformers: Dark of the Moon. He has also been a producer on some of absolutely horrid remakes, i.e. The Hitcher and A Nightmare on Elm Street. So, when I heard he was the director of Pain & Gain, I wasn't very optimistic.
However, after seeing the cast and previews, I decided to give it a shot and check it out. In Pain and Gain, Bay delivers a very entertaining, dark comedy that is based on a true story. He gets solid performances from Mark Wahlberg and Anthony Mackie, as well as a career-best performance from Dwayne Johnson.
The true crime story is set in the 1990s in Florida. Three bodybuilders, played by Wahlberg, Mackie, and Johnson, hatch a plan to kidnap a millionaire client and swindle him out of millions of dollars. Not being very intelligent, the bodybuilders plan soon turns from a simple plan of stealing to torture and murder. The three men concoct a plan to kidnap millionaire businessman Victor Kershaw, played quite well by Tony Shalhoub.
Wahlberg is perfect for the role of Daniel Lugo. He plays the role of a dumb, muscle bound dimwit with ease. Wahlberg has been at his best over the years when he plays less than intelligent character similar to his roles in Boogie Nights and Ted. His character of Lugo, tries his best to imitate Scarface and take the American Dream. But, unlike Scarface, Wahlberg is unwilling to work for it, as it is pointed out to him late in the film.
Mackie, who has picked some great roles over the last few years in films like Notorious and We Are Marshall, plays Lugo's right hand man. His steroid usage leads to erectile dysfunction, leading him to seek the help of a doctor, in some of the funnier moments of the film. While visiting a doctor, he meets Ramona, a nurse played by Rebel Wilson. While I am not a huge fan of Wilson's comedy, she steals the show in these scenes. In fact, I missed a lot of the dialogue from laughing so hard.
Now to Johnson, who steals the show in the film. He plays ex-convict Paul, who seems to have found Jesus, but continues to break the commandments and law by assaulting people, stealing, attempted murder, and drug useage. Johnson shows some real dramatic flair at the end of the film. He is at his best when his character's life is in a downward spiral.
Overall, Bay shows that he doesn't need non-stop action or loads of explosions to make a great movie. The last Michael Bay movie I really enjoyed was The Rock, so it's been years since the director has impressed me. He gets top-notch performances from the cast, and shows that he can make a movie that is at times dark, but still make it enjoyable. He also doesn't forget that innocent people were killed in real life, so rather than have the audience yuk it up with the criminals, they leave knowing that the three criminals were very bad men. Pain & Gain is definitely worth seeing. I would have to say that it is one of the more entertaining and enjoyable films I have seen so far in 2013.