Movie Review: 'Mud' Starring Matthew McConaughey, Reese Witherspoon, Sam Shepard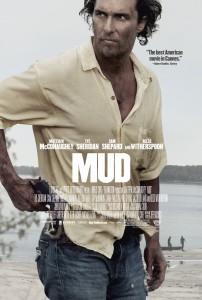 Who is Mud? That is the question you will ask yourself throughout the entire film that stars Matthew McConaughey, about his mysterious character living on a secluded island in Arkansas. It is hard to tell whether he is good or bad, telling the truth or manipulating it to get his way. In either case, trying to figure it out while watching his interaction with the only friends he has – two teenage boys – is half the fun.
Ellis (Tye Sheridan) and his friend Neckbone (Jacob Lofland) live in Arkansas, where they run around the river and town freely. Ellis' parents and Neckbone's uncle work most of the time, giving them free reign unless they are needed to help. One day when the two boys take their boat down the Mississippi further than they are supposed to, they discover a boat up in a tree on a desolate island. The two decide that they are going to claim it and make it their own, until they discover fresh food on-board. When they depart their new-found treasure to head back home, they come across footprints near their boat – that seem to lead to nowhere. When they turn back to leave the island, a mysterious figure has appeared – a man they will come to know as "Mud."
The boys eventually find out that their new acquaintance is waiting for a friend, a woman named Juniper (Reese Witherspoon). While Neckbone doesn't want much to do with the stranger, Ellis believes in love and wants to help Mud reunite with her. But the two bite off more than they can chew when a man comes looking for Juniper, and more importantly Mud, and wants to do more than talk to him. The two teens try and figure out who Mud really is, while struggling with family life at home and avoiding anyone who might want to hurt them or their new friend.
Matthew McConaughey has been on a role the last couple of years, with outstanding performances in The Lincoln Lawyer, Magic Mike, and Killer Joe to name a few – and now Mud. You never quite know what to think of his character, who is rough but equally charming. When you find out what he is hiding from on the island, you don't completely want to trust him – while you sort of do. His cool exterior and perfectly fitting southern drawl pull you in and don't let go until the very end.
Although McConaughey is certainly the headliner, the star of the film is 16-year-old Tye Sheridan. The young actor has only previously appeared in Terrence Malick's The Tree of Life and gives a leading performance that is sure to catapult his career into a bright future. Sheridan's character struggles with his parent's broken relationship at home, while trying to be a normal teenager and find a girl of his own – all while helping a mysterious man whose real motives remain unknown. His relationship with the other lead, played by Jacob Lofland, is organic and never leaves the audience questioning their friendship. Both of the talented young actors are sure to receive recognition for their roles.
Director Jeff Nichols has made a well-written and compelling character-driven drama with Mud. Everyone in the cast, from veteran actors McConaughey and Witherspoon to newcomers Sheridan and Lofland, dive into their roles and make them their own. The unique story, which was partially inspired by Mark Twain's classic novel Tom Sawyer, is well paced and intriguing from start to finish. And it wouldn't be surprising if McConaughey and the boys end up with some recognition come awards time.
Mud is an A.