Movie Review: 'Like Crazy' Starring Anton Yelchin, Felicity Jones, Jennifer Lawrence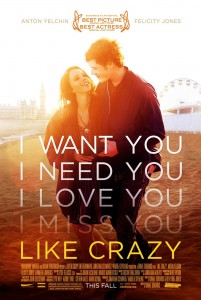 Is it just me, or are more and more movies focusing on the troubles of relationships?  Maybe it is because it is more interesting; maybe it is to make them less mainstream; maybe it is because it is more realistic.  In any case, we've seen it work recently (ie: 500 Days of Summer, Blue Valentine, Revolutionary Road).  But something just doesn't feel quite right about Like Crazy.
When a British college student falls for her American classmate they embark on a passionate and life-changing journey only to be separated when she violates the terms of her visa.
Jacob (Anton Yelchin) is your average American college student.  When he meets Anna (Felicity Jones), a British student in his class that is in LA on a temporary visa, he knew that there was something between them.  Fortunately Anna felt the same, and the two end up meeting for coffee.  From that point on, they knew they belonged together.  What starts as a textbook romance whirlwinds into a year of love, which inevitably ends way too abruptly as their schooling comes to an end.  She knows she has to go back to England once her visa expires, but can't bear the thought of leaving Jacob for the summer.  Against both of their better judgement Anna overstays her visa, and the two of them share an unforgettable summer. Anna eventually returns home for a friend's wedding, and upon re-entering the US again she is stopped by customs.  Violating the terms of her visa was no small matter, and Anna is forcefully sent back home.  Enter Jacob stranded at the airport with flowers, frantically looking for the love of his life.  Troubles begin.
I think we all know long distance relationships can be tough.  Sometimes families move, plans change, or more often teenagers travel cities apart to attend college.  But it is hard to imagine what it is like being countries apart.  Over 5,000 miles apart, and separated by nearly 3,000 miles of water, the two of them start to grow apart.  The time difference keeps Jacob and Anna from talking, and the two of them start to lose hope that they will ever be together again.
I really like Anton Yelchin, and have been a huge fan of his since I saw him in Charlie Bartlet. This young actor has a ton of charisma, and has proven he can be quite versatile in his roles (see Star Trek, Terminator Salvation, The Beaver). But for whatever reason, he just didn't do it for me in this role.  I didn't even find the chemistry between him and Felicity Jones that believable.  Something just didn't feel right; but maybe that is the point.  Throughout the movie, we see what it is like when the two of them interact with different love interests – and on both occasions it seems far less awkward.   Jennifer Lawrence plays Jacob's assistant, and the two of them look great on-screen together.
I did enjoy the cinematography throughout the film. The look of the film is very rough, and compliments the relationship between the main characters. It has a unique style, jumping back and forth between characters and cutting up the story in a way that makes the pacing pretty interesting.
I guess the strangest part of the whole thing is that the two main characters are made out to be so in love, and you would think they would do anything to be together. But as soon as Anna returns to the UK, it seems she beings to be cold toward Jacob.  Eventually, he seems to lose hope, and doesn't even consider moving to be closer to her. Sure, it would be a huge life disruption, but wouldn't you consider it if you were in love? He makes chairs for crying out loud – I'm pretty sure Los Angeles isn't the only place you can do that.
Don't expect going into this film thinking that you are going to see anything but a troubled relationship. If you have seen the films I mentioned at the beginning of the review, you have a good idea of what you are in for.  If you are a believer that true love conquers all, this film shows just how hard it has to fight to do so.  And I won't spoil the ending, but let's just say don't expect too much out of it.
Like Crazy is a B-