St. Louis Celebrates the 12 DAYS OF 'ARTHUR CHRISTMAS' Starting Tomorrow!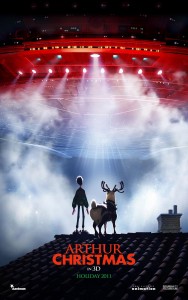 Leading up to the release of ARTHUR CHRISTMAS on Wed November 23rd, Aardman and Sony Pictures Animation are bringing the holidays early to St. Louis with the 12 DAYS OF ARTHUR CHRISTMAS! Each day we'll have fun activities happening throughout St. Louis for families to celebrate the holidays and the release of the film.
About ARTHUR CHRISTMAS:
The 3D, CG-animated family comedy Arthur Christmas, an Aardman production for Sony Pictures Animation, at last reveals the incredible, never-before-seen answer to every child's question: "So how does Santa deliver all those presents in one night?" The answer: Santa's exhilarating, ultra-high-tech operation hidden beneath the North Pole. But at the heart of the film is a story with the ingredients of a Christmas classic – a family in a state of comic dysfunction and an unlikely hero: Santa's youngest son, Arthur. When this amazing operation misses one child out of hundreds of millions, Arthur, the least capable Claus, embarks on a hilarious, exciting rogue mission against the clock with his politically incorrect grandfather Grandsanta and a giftwrapping-obsessed elf named Bryony, to deliver the last present before Christmas morning dawns. The film is directed by Sarah Smith, written by Peter Baynham & Sarah Smith, and produced by Peter Lord, David Sproxton, Carla Shelley, and Steve Pegram.
Here is what is going on during the 12 DAYS OF 'ARTHUR CHRISTMAS' —
Day 1, Saturday, November 12, 2011
Arthur Christmas is Coming to Town
Chesterfield Mall
10:00AM-2:00PM
Stop by to celebrate the 12 Days of Arthur Christmas kick-off with the arrival of Santa Claus! Families will be able compete in a snow ball throw, bounce around in Santa's Christmas Castle, and even have their Christmas presents wrapped by elves. Open to the public.
Day 2, Sunday, November 13, 2011
Wishes to Wonderland
St. Louis Science Center
1:00PM-3:00PM
Come write your letters to Santa!  Just bring your wants and wishes, and we'll provide the paper and crayons, as well as fun Christmas crafts. Open to the public.
Day 3, Monday, November 14, 2011
Holly Jolly Story Time
St. Louis County Library-Headquarters
1:00PM-2:00PM
Join us for a special story time of everyone's favorite Christmas book, 'Twas the Night Before Christmas. A popular local celebrity will be on hand to read you into the holiday spirit. Open to the public.
Day 4, Tuesday, November 15, 2011
Polar Bear Plunge
The Heights
4:00PM-5:00PM
Stop by The Heights to participate in the Polar Bear Plunge and swim in the indoor pool.  Make sure you tell us your favorite Christmas present and Christmas just might come early for you. Open to the public.
Day 5, Wednesday, November 16, 2011
Valet For a Day
City Garden
All Day
Arthur is taking over Meters downtown to make your holiday shopping easier! Park at one of the Elf hat-covered meters and you will have a day of free parking!  Open to the public.
Day 6, Thursday, November 17, 2011
Sugar & Spice
Sarah's Cupcake Truck in Downtown Kirkwood
5:30PM-7:00PM
Design your Christmas Cupcake with candy canes and sprinkles! The top designs will be featured on the Sarah's Cupcake Shop Facebook page throughout the week. Open to public.
Day 7, Friday, November 18, 2011
Gingerbread House Jubilee
National Shrine of Our Lady of the Snows
5:00PM-9:00PM
Stop by for the Way of Lights kickoff party!  Get ready for Christmas with the beautiful lights and create a gingerbread house at the creation station in the Children's Village. Open to the public.
Day 8, Saturday, November 19, 2011
Grandsanta's Grand Screening
Wehrenberg Des Peres 14
10:00AM
Calling all grandparents!  Grab your grandkids, your pajamas and your teddy bear and attend a very special screening of ARTHUR CHRISTMAS!  Visit www.gofobo.com/rsvp and enter the code:  KEZKPG3K for your chance to download a pass, while supplies last!
Day 9, Sunday, November 20, 2011
Reindeers and Rams
Edward Jones Dome
3:00PM
Arthur Christmas takes over the St. Louis Rams football game!  Celebrate Arthur Christmas and the Rams with lucky row giveaways!
Day 10, Monday, November 21, 2011
Pancakes & Presents
Toys for Tots Drive at Denny's
24 Hours
Bring a new, unwrapped toy for Toys for Tots to Denny's and you'll receive a coupon for a FREE Grand Slam Breakfast!  Don't forget to color your Arthur Christmas coloring sheets. Open to the public.
Donation Station
Dierbergs, Lafayette Center
6:00AM-7:00PM
Discover the true meaning of Christmas by donating to Operation Food Search.  Elves will be on hand to take anything from canned goods to turkeys! Open to the public.
Day 11, Tuesday, November 22, 2011
Creation Stations
Yucando Art Studio3:00PM-5:00PM
Create your own Christmas crafts!  The first 25 people to stop by will receive free studio time to let their creative side show in time for the Holidays! Open to the public.
Day 12, Wednesday, November 23, 2011
It's Beginning To Look A Lot Like Christmas
Arthur Christmas is released in theaters across the country!
Wehrenberg Ronnies 20 Cine
All Day
Arthur Christmas is finally here and Ronnie's 20 Cine is celebrating with coloring and crafts, hot cocoa, gingerbread houses and more.  Elves will help you make your very own Christmas ornament, which will be featured on the Ronnie's 20 Cine Christmas tree throughout the month! Open to the public. Check listings for show times.