Movie Review: 'How to Train Your Dragon 2' Starring Jay Baruchel, Gerard Butler, Kit Harrington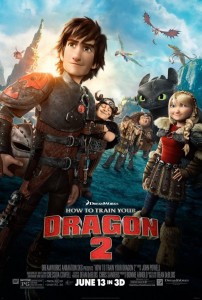 How to Train Your Dragon was a huge surprise hit in 2010, garnering almost $495 million worldwide on a $165 million budget. The film also received a 98% fresh rating on Rotten Tomatoes, proving that critics, adults and kids alike were equally enamored by the colorful tale of Hiccup (Jay Baruchel) and his dragons. HTTYD was nominated for 2 Academy Awards, including Best Animated Feature – losing that year to Toy Story 3. With such a great film, it is often hard to live up to the original; but in the case of How to Train Your Dragon 2 – it gets pretty darn close.
The story takes place five years after the events of the first film. Berk has completely accepted dragons, thanks to Hiccup and his friends, and the villagers work and live alongside each other on a daily basis. While the villagers are interested in dragon sports during their free time, Hiccup and Toothless explore new lands and try to complete their handmade map. His father, Stoick (Gerard Butler), wants to start training him to become the chief of Berk – yet Hiccup doesn't think that the job is for him. During one of his adventures, Hiccup and his fiance Astrid (America Ferrera) discover a new fortress that has been attacked and encased in ice – lead by Eret (Kit Harington), who blames them and their dragons. Eret and his crew attempt to capture their dragons, explaining that a conqueror named Drago Bludvist is building a dragon army and must have them. When Hiccup tells his father what Drago is up to, Stoic locks down Berk and warns him of the dangerous villain. Yet the hero inside of Hiccup doesn't allow him to stay put, as he escapes the village with Astrid to reason with Drago. Along the way he runs into someone he never would have imagined, and finds out that he isn't the only one who shares a bond with dragons.
One of the things that made the original movie so great was the breathtaking visuals. Up until that point, Disney-Pixar was really the powerhouse in computer animation. Sure, Dreamworks had released some huge hits with the Shrek series, and even Madagascar. But I never remember people really fawning over the detail of the animation necessarily. That changed when HTTYD hit theaters, which looked amazing. The detail, the color – it was a beautiful film to look at, aside from the great story and characters. In keeping with that tradition, How to Train Your Dragon 2 sets the bar to a whole new level – packed to the brim with vibrant imagery and detailed animation. This is one of the movies that is in the minority when it comes to recommending you see it in 3D as well. The way the filmmakers put you on the backs of the dragon, and make you feel like you are soaring through the air is an incredibly fun experience on the big screen. When you learn that Roger Deakins served as a visual consultant on both HTTYD films, the fantastic cinematography starts to make more and more sense.
As many animated features of late have tended to do, HTTYD 2 takes a serious turn in-between all the colorful dragon-riding fun. And the film handles the serious tone really well. The first films was pretty happy-go-lucky for the most part, up until the final battle at the end. Where as the sequel deals with several dramatic beats, some of them doing a pretty good job of shaking up the dust in the theater (if you know what I mean). Director Dean DeBlois, who took the helm solo this go-around (while still co-writing with Chris Sanders), was responsible for Lilo and Stitch as well – so it isn't a huge surprise that he has a firm grasp on the story.
There are tons of great actors back from the first film, which do a great job of assisting Hiccup on his journey and bringing levity to keep things moving. Craig Ferguson is back as Gobber, Stoick's right hand man. Jonah Hill, Christopher Mintz-Plasse, T.J. Miller and Kristen Wiig are all back as his fellow dragon-riders. Kit Harington, best known as Jon Snow from Game of Thrones, makes a nice addition to the cast – as does Cate Blanchett, who appears as the mysterious Valka. The only casting that I didn't find necessarily great was Djimon Hounsou as Drago. Although Hounsou is a great actor, I didn't think his voice had that great of an impact in an animated feature like this. For someone as big and bad as his character, he seemed a bit quiet and not too intimidating.
If you loved the first HTTYD, there is no doubt that you will enjoy the sequel. How to Train Your Dragon 2 once again does what so many kids movies fail to do – create an experience that is equally enjoyable for both children and adults. There is plenty for everyone to take in on this second outing, with a great story and animation that looks better than ever. Leaving the theater I was instantly looking forward to HTTYD 3 in 2016.
How to Train Your Dragon 2 is an A.