Movie Review: 'Girl Most Likely' Starring Kristen Wiig, Annette Benning, and Darren Criss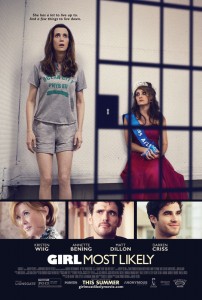 It's hard to say what a movie like Girl Most Likely is going for, but one thing we can be sure of, it isn't working. On the surface the film is a vehicle for star Kristen Wiig to showcase more of her comedic talent post-SNL, and capitalize off of the mega-success of Bridesmaids.  What it ends up as is a cinematic mess that has equal parts offsetting quirk and elitist tripe.
Wiig stars as Imogene, a woman who once held the possibility of being a great playwright, but finds herself failing just as miserably in the life of a New York socialite. After her boyfriend dumps her, she makes the desperate move of faking a suicide attempt. The only problem is that the suicide attempt looks a bit too real, and ends up with Imogene in the hospital.  Due to overcrowding in the hospital, Imogene is sent home with her estranged mother (Annette Benning) to Ocean City.  Her childhood home in Ocean City is filled with endless absurdities and eccentric characters. Imogene finds the once familiar territory invaded by her mother's lover, George Bousche (Matt Dillon), and a renter who has taken her room. After years of denying that these people make up her world, she has to decide to embrace it or escape it.
Girl Most Likely tries to position itself as a film about accepting the people who love you, despite their flaws.  The film never really makes it there, and instead Imogene's self-discovery barely even achieves liftoff before a slightly manic final ending. The film never quite figures out if it wants to be a heartwarming story of a middle-aged woman who finally finds herself or an absurdest comedy with a social commentary on American values.  It's a film that is enamored with its own cleverness. Unfortunately, it fails to be as clever as it assumes it is, and ultimately crashes and burns.
That isn't to say there isn't some bright spots. Some of the cast meshes real well, Wiig and Christopher Fitzgerald, who players her slightly agoraphobic brother, have an odd chemistry that works. Their scenes are probably some of the best in the film. Wiig also works some magic with co-star Darren Criss, who manages to be the only non-caricature in the film.  There aren't a lot of other standouts in the cast though. Matt Dillon seems plucked from the deleted scenes of There's Something About Mary, and Annette Benning feeds him the scenery to chew on.
There is very little about Girl Most Likely that is appallingly bad, but it never hits its stride in its plot to make it very enjoyable. Don't be fooled by the talented cast, use your money on a more deserving film.
Grade: C