Movie Review: 'Friends With Benefits' Starring Justin Timberlake, Mila Kunis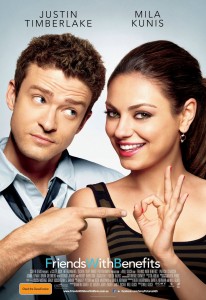 The formula may seem vaguely familiar.  Two friends decide to make their relationship into something more than just buddies, yet want No Strings Attached. Well, if you think you may have just watched this movie – you probably did.  Back in January, we saw Ashton Kutcher and Natalie Portman do the same deed.  Fortunately the fact that Friends With Benefits was the movie with the Summer release date was proper foreshadowing, and is ultimately a much better film.
Dylan (Justin Timberlake) is a tech savvy blogger who's website is garnishing him a lot of attention.  So much so, that GQ Magazine has hired a headhunter named Jamie (Mila Kunis) to recruit him for the job of art director. Dylan flies to New York, where Jamie shows him around and eventually gets him to take the job.  Their strictly platonic friendship grows as time goes on, and they eventually get on the topic of how complicated relationships are while hanging out one night.  They liken having sex to playing tennis, and decide that it should be no problem to add it to their friendly activities.  Neither one of them thinks that things will get complicated, but of course it's a lot easier said than done.
I've been looking forward to seeing Friends With Benefits since last year, and especially after seeing No Strings Attached. I like Natalie Portman, but am not a huge Ashton Kutcher fan – so the Timberlake / Kunis combination seemed much more appealing.  I started to get a little worried during the first fifteen minutes of the film, due to some pretty bad pacing as the story is setup.  But luckily things pick up after that point, and the rest of the movie is pretty much non-stop laughs.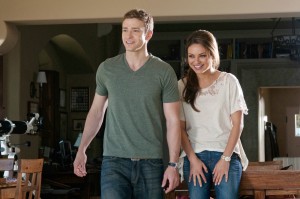 The chemistry between Justin Timberlake and Mila Kunis is great.  Both of them are extremely likable, which has held true for most of their roles to date.  Timberlake has proven himself as an actor in films like Alpha Dog andThe Social Network, and we know he has no problem tackling comedy with his numerous SNL appearances.  Kunis has grown up tremendously since That 70's Show, and was great in Black Swan and Forgetting Sarah Marshall.  This movie proves once again that this young actress has talent, and is going to be around for a long time.  The two of them are a natural fit, and their quirky relationship is a lot of fun to watch on-screen.
The movie is full of great supporting actors, and has plenty of awesome cameos as well.  Emma Stone and Andy Samberg play both Timberlake and Kunis' characters' ex's.  Woody Harrelson plays Tommy, the gay sports editor at GQ – who is also a sagely advice-giving character to Timberlake's Dylan.  Harrelson is hilarious, and steals the show every time we see him.  Jenna Elfman plays Dylan's sister, and Richard Jenkins is their father – who is suffering back home in California with Alzheimer's.  I've said it before, and I will say it again – Richard Jenkins is awesome.  He is one of the most talented character actors around, and he truly deserves some recognition. Director Will Gluck brings back Patricia Clarkson to play the same kind of goofy, unfiltered mom that she played in Easy A. Although she plays pretty much the same character, it's still fun in this one.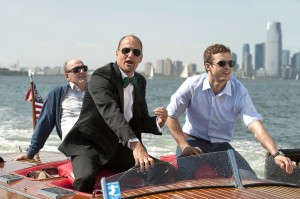 Accept no imitations, Friends With Benefits is the real deal.  The story might start off a little slow, but once things get started its full speed ahead until the credits.  Timberlake and Kunis have great on-screen chemistry, and the jokes are pretty consistently "laugh out loud" funny.  The movie takes a serious subject and has a lot of fun with it.  It's definitely earns it's R rating, so make sure to keep the kiddos at home.  If you are looking for a great R rated comedy to see this summer, this one is good for a lot of laughs.
Friends With Benefits is a B.