Movie Review: 'Cinderella' Starring Lily James, Cate Blanchett, Richard Madden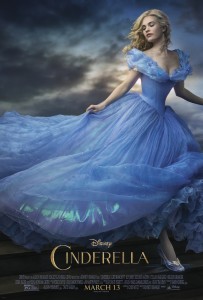 In 1950 Walt Disney Productions was $4 million dollars in debt, and took a huge gamble on producing the $3 million dollar animated feature Cinderella. It was a film that would either make or break the studio. Yet here we are, and we all know the outcome of the film – 65 years later as we watch the live-action re-imagining of the classic, which is revered as one of the greatest animated features of all time.
Kenneth Branagh (Hamlet, Thor) directs a screenplay by Chris Weitz (About a Boy, Antz) in a straight forward adaptation that doesn't try to flip the original story, which audiences know and love, on its head. The film follows the classic animated version pretty much beat for beat, and it isn't at all a bad thing. We do gain more insight into Cinderella's childhood, and relationship with her mother (Hayley Atwell) and father (Ben Chaplin) before they pass away, which only helps to grow the connection we feel with the main character – played by the charming Lily James (Downton Abbey).
Before Ella's father passes away, he tries one more attempt at happiness by marrying the widowed Lady Tremaine – masterfully portrayed by Cate Blanchett (Lord of the Rings, Blue Jasmine). Blanchett may look as lovely as ever, but she is evil incarnate as the wicked stepmother. Never before has a cartoon villain come to life on film in such dastardly fashion, as the actress makes it extremely easy to hate her character to its core. Blanchett is in good (bad?) company, as she brings her terribly nasty daughters Drisella (Sophie McShera) and Anastasia (Holliday Grainger) with her to live in the house. True to form, the wicked stepsisters are just as cruel and awful to Cinderella as you would expect. All three actresses do a fantastic job of making the audience loathe them.
After riding away on her horse to get a breather from her despicable step-family, Ella runs into the Prince – played by the "The True King of the North," AKA Richard Madden (Game of Thrones). The two of them share a lovely little "meet cute" as he chases her down on his white stallion, trying to find out who she is. She doesn't find out that he is the Prince, rather mistaking him for an apprentice that works at the palace, and he doesn't find out who she really is. But what he does know is that he is smitten with her, and would rather marry her than be married off for armies and strategic advantage for his kingdom. Yet his father the king (Derek Jacobi) and adviser the Grand Duke (Stellan Skarsgård) will hear nothing of the sort. The Prince has other plans in mind though, and makes arrangements for all maidens in the land to be invited to the royal ball – where the Prince is to choose his bride. He hopes to see Ella there – and boy does he ever.
The film is absolutely beautiful, from the visual effects to the magnificent costumes. Ella's Fairy Godmother, played Helena Bonham Carter (Fight Club, The Kings Speech), of course ensures that Cinderella makes it to the ball – and the transformations look fantastic. The pumpkin becomes a carriage, the mice become stallions, lizards into coachmen – faster than you can say "bippity boppity boo" (and she does). The royal ball is a sight to behold, full of character and glorious costumes. Branagh is obviously no stranger to period pieces, and presents a breathtaking version of the ball. The cinematography is dazzling as we sweep through the ballroom, capturing the magic of the evening and the enchanting interaction between Ella and the Prince when they are finally reunited. It is no question why Branagh was chosen as the director for this project, and it pays off big time.
It is always a huge risk taking a beloved childhood film and re-imagining it – especially when adapting it to a new medium (live action in this example). Yet if there is one company you can probably trust to handle their intellectual properties with care, it would have to be Disney. And the mouse hit a grand slam with his latest effort. Disney took a page out of the Marvel playbook and hired a director that was perfect for the job (as they did with Branagh directing Thor), and the result is fantastic. Full of wonderful acting, alluring visuals and a great script – the film delivers on all promises. And it is well paced at 112 minutes, with never a dull moment or wasted filler, telling the version of the story that everyone wanted to see come to life.
Cinderella is an A.