Movie Review: 'The Divergent Series: Insurgent' Starring Shailene Woodley, Theo James, Jai Courtney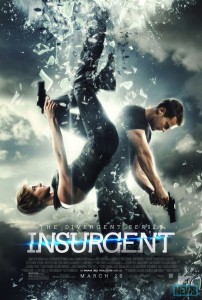 Around this same time last year, Divergent was a box office success – pulling in almost $300 million dollars worldwide on its $85 million dollar budget. This was yet another attempt to kick-start a movie franchise based on a YA property, similar to that of The Twilight Saga and The Hunger Games. Where other similar attempts like Vampire Academy and The Mortal Instruments: City of Bones have failed, The Divergent Series seems to be right on track to cash in. But has the lackluster second film in the series predicted the future for the franchise?
Taking place only days after the events of the first film, Tris (Shailene Woodley) and her love interest Four (Theo James), along with brother Caleb (Ansel Elgort) and frienemy Peter (Miles Teller), take refuge in Amity until they are ready to take on Jeanine (Kate Winslet). Meanwhile Eric (Jai Courtney) and his army have been searching Abnegation for a box marked with all of the symbols of the factions. After uncovering the artifact and taking it to Jeanine, we learn that only a Divergent can open it – causing her to order the capture of their kind. When Eric shows up to Amity, Tris and her friends escape on a train to Factionless territory – where we are introduced to their leader Evelyn (Naomi Watts). She asks that Dauntless join forces with the Factionless to take on Jeanine and the Erudites.
There is a lot of wasted talented added to the cast of Insurgent, who simply aren't given much to do. Oscar-winner Octavia Spencer plays Johanna, the leader of Amity, who we see for a couple of quick scenes where she babysits Tris and company. Naomi Watts is a bit more significant to the plot, where she works with Four and Dauntless to take on Erudite, but is still barely given enough screen time to make use of her acting talents.
Shailene Woodley is a fantastic actress, but I still have the same reservations I had about her in the first film. She does as good of a job as she possibly can, but I still don't buy her as an action star. And in this film she is given even more to do, albeit more through simulations than in real life. But during her fight scenes there simply isn't any way you could convince me that she could hold her own. She has a wide range of acting ability, but I personally don't think it extends to "badass." Also, there is never any real sense of danger in the film, because someone conveniently swoops in at the last minute and saves the character at risk of being killed – every time. It is absurd how convenient the last minute saves are.
Speaking of simulations, that is where most of the action takes place in the film. The previews are a bit misleading, especially if you haven't read the books. The studio touts the film as being much more action-packed than the first, but the action isn't really taking place in the real-world. In order for Jeanine to unlock the mysterious box she's been after, a Divergent has to go through simulated tests of each faction – and that is where much of the last half of the film takes place. Personally I found these scenes to be pretty boring, no matter how many special effects they tried to pack into them. The fact that they were simulations, even though the stakes were high, just make them seem less exciting. And the dialogue between Jeanine, Tris and the gang in-between simulations seemed to drag on forever.
There was good potential for the series after Divergent, but I have lost any confidence I once had after seeing the second installment. It especially has me worried for taking the third and final book in the series, and doing what studios tend to do nowadays – stretching it into two films. Having never read the book, I don't know what is going to happen. But after the ending of this film, I'm not sure how much more there is to do in Allegiant Part 1 and 2. Whatever it is, let's hope the movie makes more sense than this one did.
Insurgent is a C-