Movie Review: Bird Box, Starring; Sandra Bullock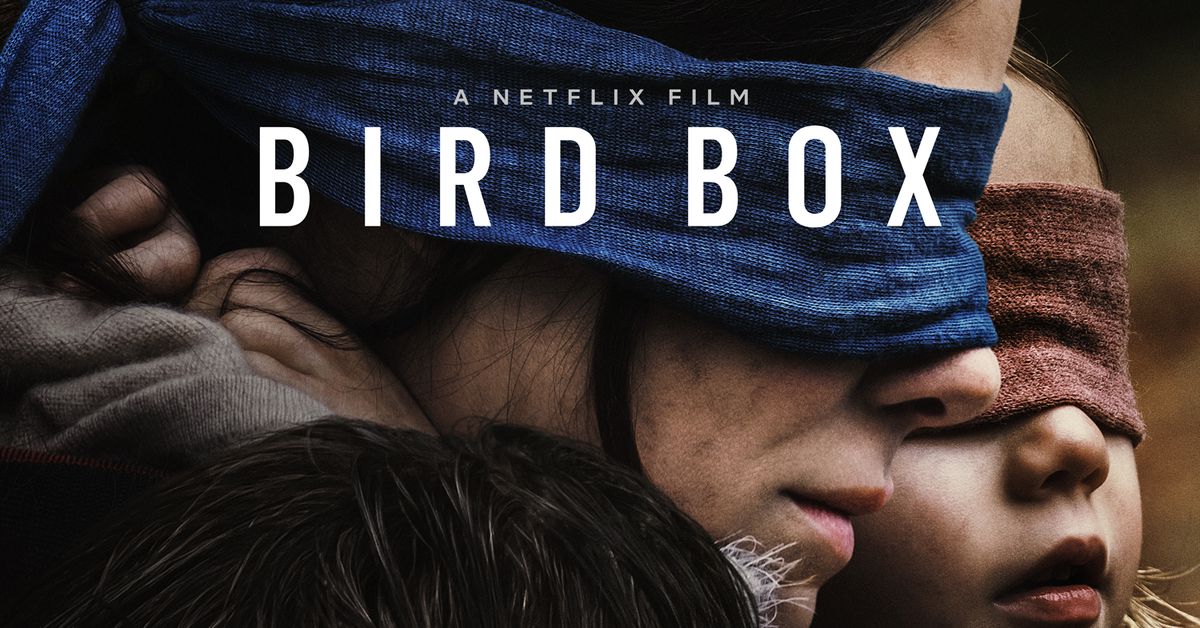 Netflix gave subscribers to the streaming service an early Christmas gift with the release of Sandra Bullock's new film Bird Box released on December 21st. The film, based on the 2015 novel of the same name by Josh Malerman, follows Bullock's character Malorie and her children in a dystopian future where they must remain blindfolded to survive. After mysterious creatures cause most of the human race to kill themselves upon seeing them, a few remaining survivors band together to live in a locked up house. But, with limited supplies, food, resources, and a group of individuals too scared to open their eyes, how long does the group have to survive before time runs out? Told in both past and present, viewers see how Malorie has adapted to these living situations and survived with her children over the span of five years, as they blindly attempt a dangerous journey to what they hope is a safe haven with other survivors.
​When advertised, I asked myself if this movie was really going to be a Netflix film, as if felt like something you'd see in a theatre (Which you can, as the film was given a limited theatrical release.) However, the streaming service seems to have upped its game by purchasing the rights to some major motion pictures and studio films. For many movie fans this year, it may seem that Bird Box seems like a familiar concept. That may be, as the film definitely felt like an echo of John Krasinski's A Quiet Place released earlier this year, being that both films revolve around some mysterious force that hunts down individuals and a means of survival relies on one of the five senses (both films being sounds and sight.)
​Overall, the storyline was extremely well thought out. The film felt part-horror/part-psychological suspense and managed to raise many questions very early on and maintained a solid pace from within the first five minutes. After two hours though, I felt many of my questions were left unanswered. Without spoiling the film, I will say that a lot of people die, and we are still left wondering what the hell is actually causing them to kill themselves. Remember M. Night Shyamalan's 2008 The Happening? That film was an utter disaster, and the big Shyamalan twist was that grass was causing people to go into raging fits of suicide. But, at least the audience was given a 'why?' The frustrating aspect of Bird Box is that when the credits roll, I still had dozens of questions – and I felt cheated not getting the answers. Don't get me wrong, the film was enjoyable, I just find it irritating not to tie of up loose ends – unless there is a planned sequel, which as of right now, there is not.
​The supporting cast was made up of some well-known faces, as well as some new comers. Sarah Paulson plays Malorie's sister Jessica, and even though her screen time is cut short, her character is still allowed some development to cause the audience to care what happens to her (Or maybe it's just because everyone loves Sarah Paulson, who knows!) John Malkovich plays fellow survivor Douglas, whom I found myself hating and loving at the same time, as the choices he makesthroughout the film are questionable. Danielle Macdonald also has a surprising role of Olympia, a character who develops a unique relationship with Malorie. You may recognize Macdonald from an earlier appearance of another one of Netflix's major releases this month, Dumplin'. Scattered among the supporting cast is a few other individuals, just enough for the director to maintain a decent kill count without destroying character development from its key players.
​As a whole, I quite enjoyed the film. There is an interesting ending that seems to leave viewers with at least some sense of closure, even though many questions were still left unanswered. So, if you're searching through Netflix over winter break and looking for something a little more exciting, giving Bird Box a chance is definitely an option. If anything, you at least can enjoy Sandra Bullock's impressive acting chops for two hours if you so desire.
Overall: C+