Review: T.J. Miller at Helium Comedy Club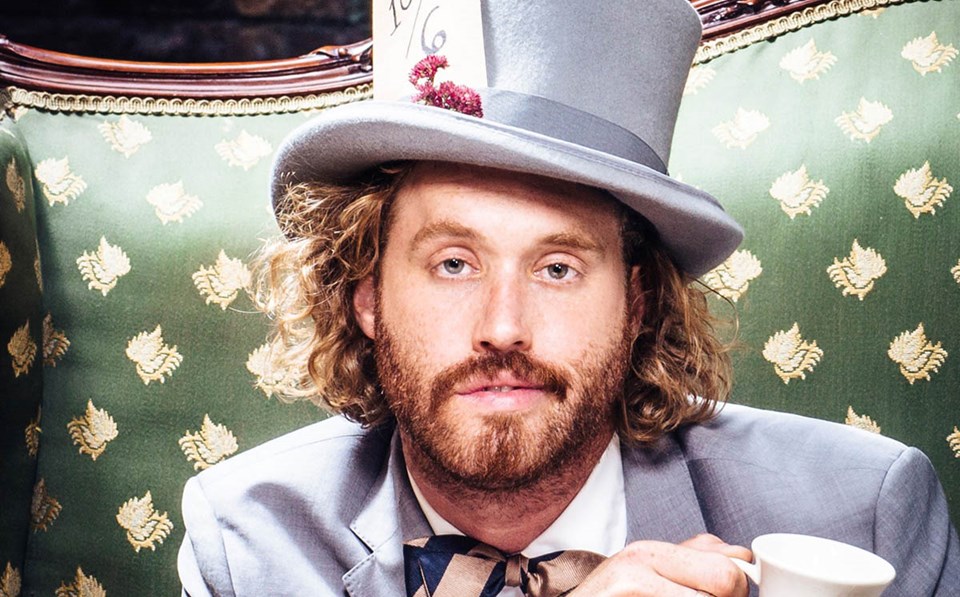 Let me preface this review with the skepticism that I possessed upon accepting the assignment to review this show.  Many people are more familiar with Miller's rap sheet than they are his resume. He has been described by many as a rapist, a drunk, a homeless and talentless headcase who calls in fake bomb threats on mass transport as revenge upon unsuspecting women with which he has verbal altercations.  With that said, I am doubly skeptical about what I read on the internet. Therefore, I chose to approach this review with an open mind on the heels of what was a very eye-opening and spiritually fulfilling conversation that I had the honor of having with T.J. the day before. If you're so inclined and intrigued, check out the interview here.  https://www.reviewstl.com/interview-t-j-miller-performing-at-helium-this-weekend/
Miller packed the house for two sold out shows on Friday night.  Perhaps show-goers wanted to catch an up close and personal glimpse of Weasel from Deadpool or Erlich Bachman from Silicon Valley, but what they most certainly walked away with was a full hour and a half set of satisfying and relatable comedy.
Miller's podcast partner and longtime friend, Cash Levy, hosted the show and gave the crowd a solid prelude to the headliner's performance.  Born at St. John's hospital in St. Louis, he brought more relatable St. Louis references as the meat of his act, one would never have expected that he only spent the first two and a half months of his life here before his family relocated to the San Francisco Bay area, never to return.  For an opening act, the audience responded as warmly as they would have had they actually been there for him. Levy proved that he, in fact, could have easily held his own and headlined the show with great success. On a personal note, it was the first time I hadn't thought to myself, "Bruuuuuhhhh…..bring out the headliner."
Miller hit the stage in a major show of anticipatory excitement.  People were on their feet. Woos were o'plenty. Applause were raucous.   His presence was, in a way, omnipotent. Dressed in a finely tailored suit with a short tie – which he referenced later in an intentionally pretentious British accent – the dude had 3 oranges and 5 juggling balls discreetly (yes, discreetly) contained in his pockets.  Why??? I'll get to that.
T.J. pleased the crowd with what didn't seem to be well thought out jokes and anecdotes, but very conversational approaches to relatable, ridiculous observations and a fair share of audience participation.  It didn't take long to develop rapport with the entire room. He gained momentum quickly and kept that pace for the entire show. He shared personal interactions between him and his wife, Kate Miller, the aggressive nature of Netflix's way of sucking you into a series or film without your consent, the creepy nature of algorithms explained in personification as if it were the era pre-internet, and managed to rationalize and theorize how bread is the reason for all bad things.  Seriously, he took it back to the dawn of man and navigated the human evolution timeline through war and carbs. Another memorable bit was his prediction that the use of social media will someday be viewed as just as harmful as smoking, saying "Someday, people in restaurants are going to snarl at someone on Snapchat and demand they 'Take that Snapchat outside!' ". He continued to encourage people to stay away from screens and just be present in the moment. Something that I concur with heavily.  Namaste, motherfuckers.
Miller wrapped the show with something he had promised to me during our interview.  He promised that the show would be a "little bit of everything" that by the end, he would have someone in the audience playing the slide trombone, and that people will walk out with an eased death anxiety.  Check, check, and ehhhhhh….not so much. I still don't want to die and I am still going to take precautions to prevent my death. And if you were wondering what he was doing with three oranges and 5 balls in his pockets, Miller is a circus trained juggler.  He actually managed to incorporate fucking juggling into his act without looking like the dancing monkey.
Miller admittedly does not adhere to a format for his routine.  He does not stick with just one genre of comedy. He promises his audience that no two shows will ever be the same.  This is an admirable skill. Funny is funny. We don't need clear cut lines to discern the end of one bit and the beginning of another.  We don't need smooth segues and bit cohesion. We want to laugh. And that, we did. Hard.
Toss your preconceived judgements and opinions out the window, take a deep and cleansing breath, and allow yourself to laugh.  The dude is gracious. The dude is genuine. The dude is good.
T.J. Miller: Touring in Perpetuity Tour receives an A+.