Movie Review: 'American Sniper' is the Best Film of the Year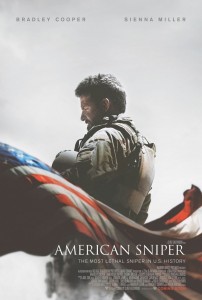 Clint Eastwood masterfully directs and Bradley Cooper gives the performance of a lifetime as Chris Kyle, the Navy Seal sniper who recorded more kills than any soldier in U.S. History.
Am I a bit biased here? Perhaps, given that I was one of the few who thoroughly enjoyed Eastwood's "Jersey Boys." The director has an eye for great war stories, just look at Letters From Iwo Jima or Flags of Our Fathers.
Critics and moviegoers can say what they want about the top performances of the year, but Cooper is at the top of the list.
The film tells the story of Chris Kyle and his struggle with Post Traumatic Stress Disorder after returning from his tour of duty following 9/11. Some of the best scenes in the film involve Kyle trying to cope with the reality of being back at home as a civilian, and more importantly, a husband and father.
Sienna Miller (Taya) plays Kyle's wife. At first the audience sees her as a tough, self-reliant woman. As the film moves on, the audience sees Taya beg her husband to stay home with his family. The audience sees a wife who fears she is losing her husband to the war, which she is.
Now, without giving too much away, some of the war scenes are pure gut-wrenchers. A scene involving an ill-fated Iraqi child is nothing short of heart pounding and intense. The audience feels helpless as Kyle must make the decision to pull the trigger or not.
The movie is not perfect, as Eastwood fails to delve deeper into the issue of PTSD. I left the theater wishing there would have been more about Kyle's interactions with veterans dealing with PTSD. However, in a film that is already over 2 hours, I can see where some things needed to be omitted.
In the end, American Sniper does not glorify war, nor does it bash it. Instead, the audience gets a firsthand look at the emotional strain that war puts on soldiers. Eastwood makes sure that the audience sees what some American soldiers go through, on the battlefield and at home when returning. While some viewers may already know Kyle's fate, the film still will have you on edge. I, for one, did not know what happened to Kyle, having not read the book that the movie is based off of. Eastwood is at his best at the end of the film, giving the soldier a proper send off, showing the audience that while death and violence was all around American soldiers on the battlefield, it also followed some of them home where they should have been safe.
I can't stress enough, how great this film is. Having seen a handful of the so-called top films of the year, American Sniper blows them all away.
American Sniper gets at A.