Miss March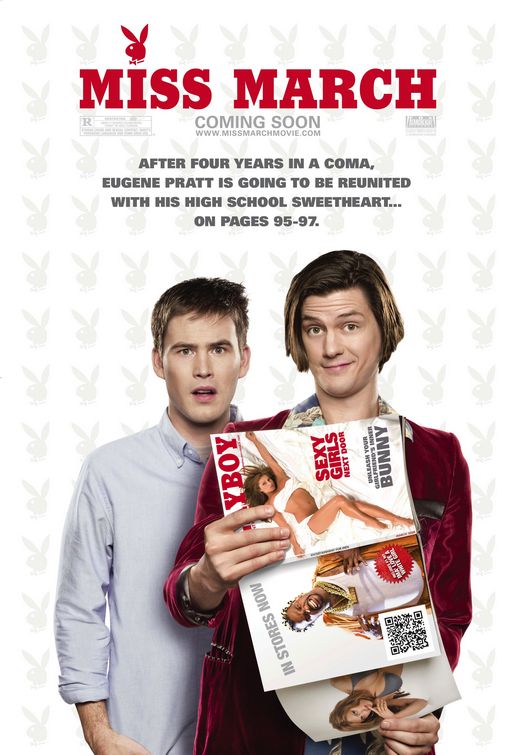 I try to give every movie a fair shot when I go into the theater. In fact, some of my favorite movies have come out of me doing that. I go in expecting to not like it, and then poof two hours later I'm ready for the DVD release. Miss March unfortunately was not one of those movies. In fact, about halfway through I had already started to regret going to see it.
Miss March starts by showing our two main characters engaged in an innocent game of 'the floor is lava', something I think everyone had played in their childhood, only to come across an older brother's Playboy. This is the event that starts to propel them into manhood. Propel a few years into the future and our two leads Eugene and Trevor, played by Whitest Kids You Know actors Zach Cregger and Trevor Moore,  are still affected by his brother's Playboy. Trevor is a sex fiend and Eugune leads seminars with his virginal girlfriend, Cindi. In one of Eugene's seminars to young children about the dangers of premarital sex we get our first glimpse at how hard this movie tries to shock you and doesn't work.
Eugene eventually pressured by his girlfriend into sleeping with him on prom night decides to take a few shots with his best friend to numb his nerves. When going up to meet his girlfriend to finally lose his virginity to to the girl he loves, he falls down a flight of stairs and goes into a coma. This is when the movie moves onto it's main plot.  Eugene wakes up out of a coma four years later with a forceful act done by his friend. He wakes up to find his girlfriend is now the centerfold of Playboy's March issue.  He then goes on a roadtrip to go to the Playboy Mansion, aided by a character named Horsedick.MPEG (yes, really) and a couple of frisky lesbians.
Most of the hijinks in this film come from the character of Trevor, who's love is an epileptic that he is running away from because of a mistake he did on their thirteen month anniversary.  Whether he is being chased by firemen or a Playboy bunny this character tries to be so funny, but unfortunately never is.  Trevor Moore who plays the character of Trevor Cleigh, is so over the top that it's almost harmful to watch. There are jokes in his character you know should be funny, but because he brings them in so over the top, they aren't. If you have ever seen The Whitest Kids You Know, you know that these guys can be genuinely funny. A bit crude at times, but still funny.  Crudeness is about the only thing this movie shares with their show.
This is one of those movies that proves that what works on the small screen doesn't always work on the big screen. What might play out real well in a three minute sketch does not translate as well across a whole film. The over the top comedic action of a sketch does not translate as well to film either. There were a few promotional vidoes I saw for this movie which had the rest of the WKYK trying out for the film. The performances that Cregger and Moore give in there are superior in every way to the ones they give into the film.
As Cregger and Moore's first film on their own, they are going to have trouble finding distribution for another one after this bomb. Writing, directing, and producing the film themselves they have no one to point blame onto on where it went wrong. There are no standout performances in the film.  About the funniest thing about Craig Robinson's character Horsedick.MPEG is the name, every thing else about the character is riddled with cliches.
I will give Miss March this, you will laugh at some parts. However when they run the same gag on you for the fifth time, you will get a bit tired of it. The good quality jokes are just so few and far between that you are probably just best off skipping this movie. Maybe watch it on DVD which is probably where it should have gone first instead of the theaters.
2/10