Michael Fassbender Set to Develop Film on Irish Warrior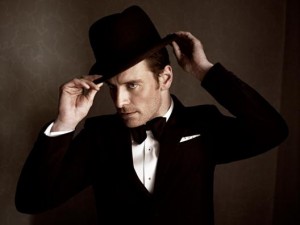 In my opinion, Jessica Chastain is the only person in Hollywood who had a bigger year than Michael Fassbender.  The man starred in five big films last year while receiving heaps of praise for his physically and emotionally revealing work in "Shame" and becoming a quick fanboy favorite due to his portrayal of Magneto in "X-Men: First Class".  And Fassbender plans to take full advantage of his new found stardom.
Fassbender is looking to develop a film about the Irish warrior Cuchulain. Unless you are familiar with Celtic folklore, I imagine that this name means absolutely nothing to you.  Cuchulain is the son of the gods and a fierce warrior who has been compared to Achilles.
Fassbender is no stranger to epic warriors.  He appeared in both "300" and the Neil Marshall directed "Centurion" (which would be a great double feature with "The Eagle").  So this is not something completely out of left field as far as characters go for Fassbender.  He is developing the project with Ronan Bennett whose last screenwriting credit is "Public Enemies".
The biggest concern would be time.  Fassbender is all over the place due to his recent success.  He is signed to star in Brendan Gleeson's directorial debut "At Swim Two Birds".  There is talks he will appear in "Shame" director Steve McQueen's next film "Twelve Years a Slave".  Due to the success of "First Class" and Fox recently signing Matthew Vaughn to direct, an X-Men sequel will be happening sooner rather than later.  The man has a full plate, but I am sure he will make time for a passion project of his own.